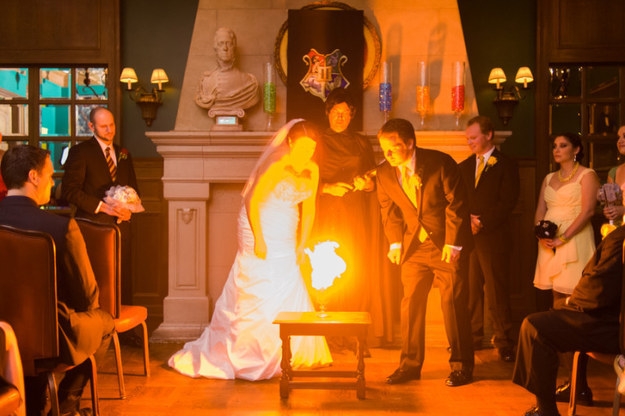 FREDERICTON – The themed wedding of Jane Danson and Peter Hartford, set in the wizarding world of Harry Potter, was reported to be "beautiful" and "heartwarming" despite the ceremony commencing with the shocking murder of both of Peter's parents.
"Pete and I both grew up loving the Harry Potter books, and we agreed we wanted a wedding that contained some of the wonder and magic you see in them," said blushing bride Jane over the mournful cries of Peter's extended family.
Jane and Peter strove for authenticity in every aspect of their wedding, from the "Marauder's Map" style invitation, to tables being named after famous locations from the books and movies, to a terrifying, cloaked figure murdering two defenceless parents as they attempted to protect their son.
"Obviously I didn't want my parents killed, but what could I do," said Peter. "I didn't want to have to wear Slytherin colours either, but that is where the Sorting Hat put me!"
"My favourite part of the wedding was when Peter and Jane walked out of the church under an arc of wands! My least favourite part was… well, you know," said bridesmaid Christine Young.
The newlyweds' dedication to realism extended beyond the murder however. The wedding also featured a number of guests being locked out because they didn't know how to get into wedding chapel 9 ¾, the handing out of owls as Wedding Favours to attendees whether they wanted one or not, and the frequent hurling of slurs at those unfortunate enough to be seated in the "muggle born" section.
At press time all of the guests were nervously wondering who was going to make it through the reception.