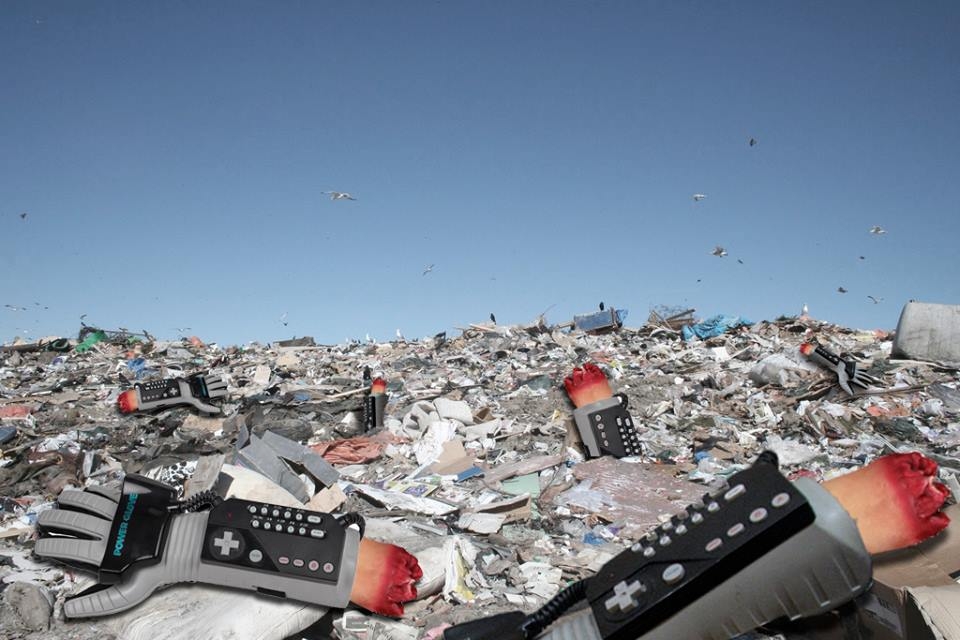 ALAMOGORDO, N.M. — As a documentary crew searched the Alamogordo Landfill for long-lost copies of the Atari 2600 game E.T. The Extraterrestrial, a separate documentary crew has discovered hundreds of units of the 80's video game accessories known as the Power Glove, each with an accompanying dismembered hand.
"It's pretty strange that the same landfill with the lost Atari E.T. games would also have these buried Power Gloves – even stranger that each and every Power Glove would have a dismembered human hand it it," opined Art Campbell, producer of the documentary Nintendo Power Grave. Here in town to capture footage of the long-rumored treasure, his crew questioned whether they would unearth evidence of the grisly Nintendo urban legend. "This raises several new questions," said Campbell. "Why did the Nintendo Power Glove disappear seemingly overnight; when did it end up in this New Mexico landfill; and how did it take all of those missing hands with it?"
Introduced in 1989, the Power Glove was a gaming peripheral that allowed the player to control their Nintendo Entertainment System using subtle movements of their hand. However, the innovative game controller was plagued with reports of buggy gameplay, poor titles, and players' hands being mysteriously severed at the wrist. The Power Glove quickly disappeared, leaving disappointed and newly-handless gamers in its wake.
The cause of the great Power Glove/kids' hands disappearance of 1991 remains a topic of intense debate in video game and law enforcement circles. Some believe the Power Glove's hand-severing to be a mechanical failure, necessitating a massive and secret recall by Nintendo. Others contend that the Power Glove units were cursed by a vengeful Japanese spirit, and simply disappeared en masse, amputating players' living hands as they vanished. Meanwhile, some die-hard Nintendo loyalists simply blame Sega.
"This closes the door on one of the greatest unanswered questions in console history, while at the same time posing far more questions," opined Nintendo historian Mark William Brenton, PhD. He laments how the Power Glove is now regarded largely as a historical footnote, considering the promise it displayed in the 1990 film/ feature-length Nintendo commercial The Wizard. "The character of Lucas may have 'loved the glove', but he likely didn't love losing both his game accessory and his right hand within the next calendar year," added Brenton, solemnly.
News of the gruesome Power Glove and severed hands' discovery has renewed interest in the game device, bumping it up to number 6 on IGN's "Worst Game Devices of All Time", ranking just below the Virtual Boy.