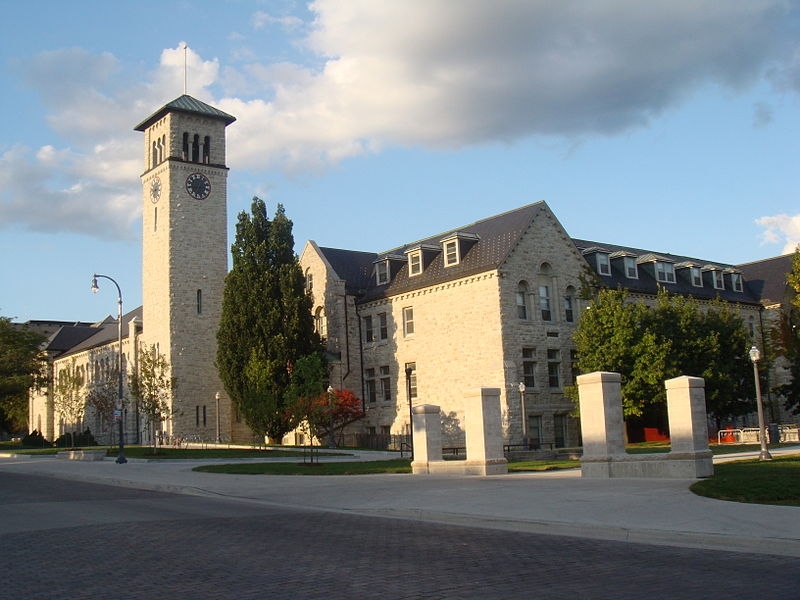 Name: Queen's University
Nickname: Ol' Money, Ol' Problems
Motto: "We go to Queen's, do you?"
 History:
Founded in 1841 in honour of Queen Victoria's money, Queen's University was the first higher-learning institution west of the maritimes to admit women because, regardless of gender, everybody with a rich daddy has the sacred right to an education. Founded in 1919, rumour has it that a degree from the Queen's School of Business guarantees you a spot on the arc that will take the world elite off-planet when the shit goes down.
 Pros: 
– Kingston mayor provides free drama lectures via his twitter account.
– Diverse student body made up of both white people and a few select Asian people.
– Stauffer Library rents rooms by the hour, provides heavily discounted lube.
– Engineering students can bang their jackets when their sexual frustration gets out of control.
– Become a part of Kingston's vibrant slumlord community!
 Cons: 
– Frosh are required to install storm windows and stack sandbags in preparation for Homecoming.
– For some reason, the townies hate the 23, 000 adolescents and twenty-somethings who bust up their city eight months of the year.
– Over a dozen students have been missing in MacIntosh Corry Hall since 1994.
– Yacht season doesn't begin until the lake thaws.
 Did you know…
…That every single student at Queen's goes to Queen's? Do you go to Queen's? No? I think we're done here.
…What's north of Princess street? I have no idea, and I am terrified of finding out.
…The closing of Kingston Penitentiary coincided with the university adding degrees in such suspicious subjects as: Shiv-osophy, Toilet Hooch Chemistry (previously offered only at Western) and Economics?
…That at Queen's, 'student loans' are when you loan poor students to your rich friends so they don't have to do their own assignments, go to class or chew their food?
…That you should get your MBA now, because the shit is going down soon?
 Famous Alumni:
John Baird, Human megaphone
Robertson Davies, Creator of the Queens University School of Fifth Business
Kathleen Wynne, Ontario's first white premier
Elon Musk, electric car manufacturer, Popular Science nude centrefold, March, May, and August, 2012