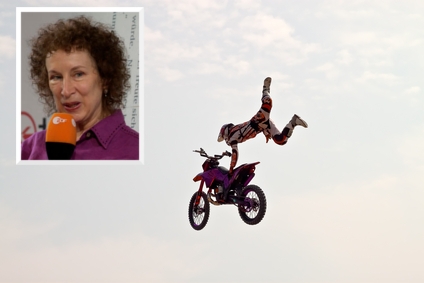 TORONTO – Two-time Governor General's Award winner Margaret Atwood tempted fate yesterday with a death-defying stunt jump over more than a dozen regulation sized school buses in order to promote a Right to Read campaign.
The famed Canadian wordsmith successfully landed the daredevil, 18-bus jump by motorcycle, shattering the previous record and inspiring children everywhere to pick up a book.
Immediately following the thrilling achievement, the 73-year-old author raised the visor of her motorcycle helmet and told the press, "That's how you get kids to read Oryx and Crake."
The event's organizer, Stacey Kent, admitted she was astounded with Atwood's passion for both youth literacy and vehicular based stunt work, adding, "You know, we didn't even ask her to do this."
According to Kent, an intern for the literacy foundation sent Atwood a request on Twitter to retweet a link promoting the campaign. But instead of a retweet, Atwood sent 18 buses and a Harley Davidson XR750 that she built herself.
"I do it for the children," Atwood told reporters. "I also do it for the pure rush of adrenaline that is looking death in the face and saying, not today. That's what my novel, Surfacing, is all about."
Fans noted that this was Atwood's 13th thrilling stunt this year. Other feats included underwater chainsaw sculpting, snake reading and something called "Library Hot Coal Shucking"
Hours later, Atwood was spotted on her motorcycle doing donuts and giving the middle finger to an individual who happened to be carrying Alice Munro's latest book.