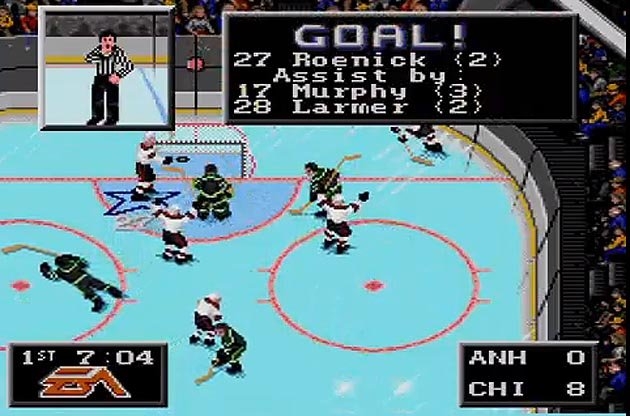 BURNABY, BC – A new study by Simon Fraser university has revealed that all children who constantly relied on well known but impossible to stop cheats to win at NHL 94 have turned into dangerous and potentially violent criminals.
"Ordinarily with these kind of studies there is a margin of error, or some level of uncertainty, but here the results were indisputable" said researcher Melvyn Pelnek, Ph.D., "100% percent of the kids who used one or more of the games many scoring tricks to mercilessly beat their opponents have spent at least a year in jail."
Pelnek pointed to one subject Jay "little J" Shah, who for years would spend the entire game skating the puck into the corner, then cutting to the net and tucking the puck around the goalie, despite his friends' pleas that such a move was "totally unfair dude!" Shah is currently serving a 10 year sentence in Kingston penitentiary for aggravated assault.
"If only the police had known about his relentlessly using the move to win games by a score of 36 to 10, they may have been able to get to him before he smacked that parking enforcement officer with his shoe."
University officials maintained that the results of the survey went well beyond one individual however.
"Frankly, simply by identifying the type of NHL 94 player a kid was, we are able to easily define what kind of criminal they grew up to be," said fellow scientist David Hauptman.
The study found kids who would use the corner cheat to be overly aggressive, macho personalities, prone to violent outbursts and uncontrolled rage. On the other hand, those who relied on the equally bullshit one-timer cheat were more controlled and ruthless, making them perfect for elaborate jewelry heists and high speed car chases.
"I'm pretty sure Ryan Gosling's character in Drive was based on a kid I used to play with," Hauptman added.
As for the kids who would play as the Chicago Blackhawks to take advantage of the fact that Jeremy Roenick was by far the best player in the game?
"Serial killers. Every single one of them," said Pelnek.
At press time, you fucking knew it.