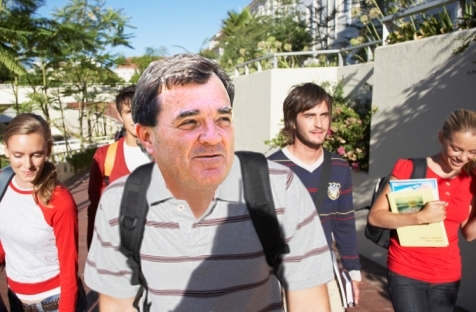 OTTAWA – Canada's Minister of Finance Jim Flaherty has returned to university to audit undergraduate economics lectures and "expand his mind" on matters of fiscal policy, sources close to the Finance Minister reported.
"I really wanted to be in an environment where I could interact with like-minded individuals," Mr. Flaherty told reporters outside the Ottawa University bookstore. "I feel at ease here. The other students are all more or less at my level, so I'm not constantly bombarded with jargon I don't understand."
Mr. Flaherty, 60, who has served four years in charge of Canada's budget, was first spotted sporting a backpack and riding his bike on Ottawa University's campus two weeks ago, and has since been seen in dozens of first and second-year economics lectures ranging from Introduction to Macroeconomics (ECO1102) to Canada and the World Economy (ECO2113).
The Finance Minister believes his years of experience holding Canada's purse strings allows him to better appreciate the lectures he's attended thus far.
"It's really motivating because I've already come across a lot of these terms at work," Mr. Flaherty explained, "so it's great to finally know what they mean, and how I can use them correctly. Sometimes it's a real eureka moment."
Mr. Flaherty has earned praise from his peers in parliament for managing the demands of his studies with his work life. The Finance Minister is often seen leaving 10-15 minutes early from parliament in order to bike to Ottawa University.
"I always see him with a backpack full of books in tow," Transport, Infrastructure and Communities Minister Chuck Strahl said. "He's often surreptitiously holding his books on his lap, and diligently working away on homework assignments when parliament is in session."
Mr. Flaherty is quick to explain the necessity for his work ethic: "The interesting thing about economics is that there's a lot of math involved, which is hard, and I need to work at."
Mr. Flaherty's strong work ethic has also won the attention of his professors.
"[Flaherty] is one of my best students," Ottawa University professor of economics Simon Montie said. "He has an incredible thirst for knowledge, and he's very open-minded."
Added Montie, "You could say he's starting with a blank slate; a very blank slate."
But not everyone has welcomed the Finance Minister's attempt to further his education. Some of Mr. Flaherty's classmates have found it a burden to work with him on group projects.
"[Flaherty] kept trying to hijack the conversation to get us to talk about the possibility of a housing bubble, or a double dip recession," explains Kim Leung, 18, a student who was recently paired with the Finance Minister to write a report identifying real world examples of the Consumer Demand Theory.
"He's very keen, but it's a little unsettling when he asks us what our thoughts are on how best to devolve federal responsibilities to the provincial and municipal governments. The intense note-taking that follows our answers leads me to believe that these exercises are more than just academic in nature. I mean, I just finished my first year. This just doesn't sit right."
Though Mr. Flaherty enjoys life as a student, he does not plan to enroll full-time due to professional commitments. He plans to continue his audit of Ottawa University's economics program until he has acquired a sufficient grasp of the subject to carry on an intelligent conversation on the state of Canada's economy.
"Give me another twelve to sixteen months," Mr. Flaherty said, tapping his index finger to his temple, "and I'll be talking about the advantages and disadvantages of the Keynesian school of thought. Keynes was a prominent economist in my field! I just learned that last week!"
When asked what his plans are after his audit is completed, Mr. Flaherty said that he'd like to spend a couple months backpacking in Europe in order to discover himself.