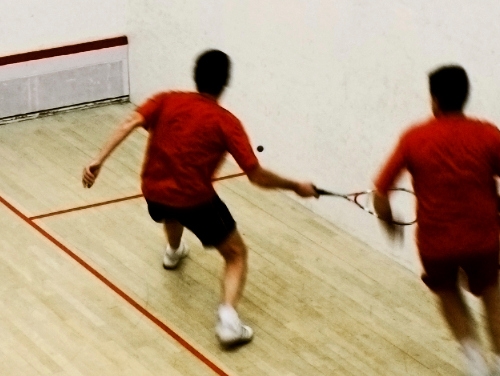 WINNIPEG, MA – A game
of squash between two University of Winnepeg
professors turned extremely
unsafe last Saturday morning
after the 'dick-out' rule was invoked.
Prof. Paul Stewarts, 39, failed
to hit his serve over the
women's line and was forced by
his playing partner, Prof. Michael
Richards, 41, to finish the
game with his dick hanging out
of his shorts.
"My playing
strategy became a lot more
conservative at that point,"
Stewarts remarked. "I had to
give up on my patented belly
dive back-hand smash for the
remainder of the game."
Winnipeg Squash Racquet Club staff commented that,
though eye goggles are
mandatory, they have no
objection to persons playing
with their dicks hanging out of
their shorts.