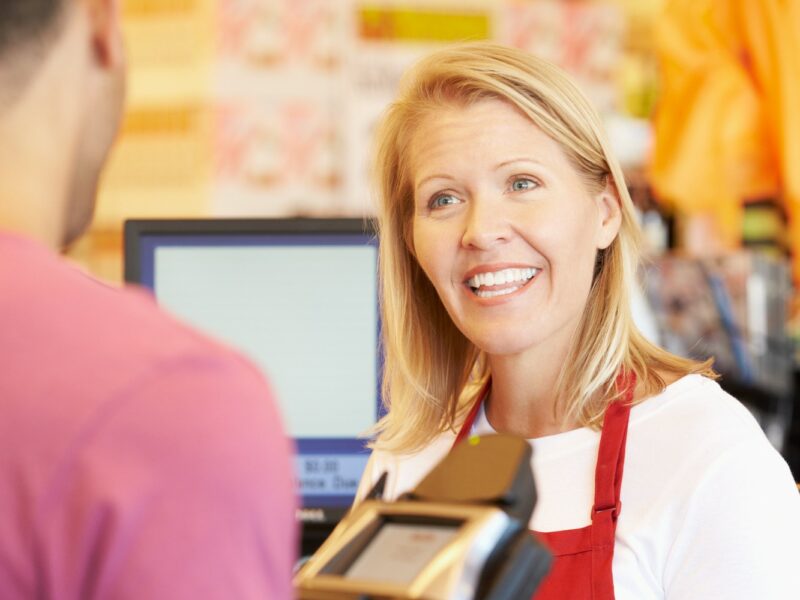 OAKVILLE, ON – Following a rise in self-checkout theft driven by increased prices, a consortium of Canadian retailers announced a new experimental pilot program replacing self-checkouts with actual live human cashiers.
"With prices of groceries, toiletries, and other necessities of living rapidly rising, we've experienced a rise in flesh consumers abusing our perfect automated self-checkouts," said Jenny MacNeil, a spokesperson for the Canadian Consortium of Retailers.
According to MacNeil, retailers who bestowed upon consumers complete responsibility for conducting their own purchases have been blindsided by the recent rise in casual theft.
"There was no way any of our various MBA VPs could have seen this coming," explains MacNeil.
In response to the trend, the consortium engaged consulting firm McKinsey, who after $400M of comprehensive behavioural research, made the unorthodox recommendation that retailers consider replacing automated computer checkouts with anthropoid-based checkouts — a world first, according to McKinsey.
"After hundreds of focus groups, it became clear that making customers become temporary employees of a store for the duration of their purchase presented a profound conflict of interest that had not been hitherto anticipated," reads the opening paragraph of the report, which called the transition to human cashiers a "tectonic shift".
"Consumers have been conducting their own checkouts for the whole history of commerce," continues the report. "To now have another human being assist in that process is going to be a big adjustment, but we're confident that in a short amount of time consumers will grow so used to human checkouts they'll forget the way things used to be."
While the plan presents some upfront costs initially, retailers say the plan will help save them money in the long run. "Having a human being ring through and properly verify items acts as a deterrent for casual thieves. It's really a wonder no one thought of this before," explains Loss Prevention Consultant James Callum.
Retailers taking part in the pilot program say that the implementation of the plan to date has been extremely smooth.
"Hiring and training cashiers has been quite effortless," says Human Resources Director Trish Cavinaugh of Loblaws. "Early on in the process, we found there was a very large pool of job seekers who possessed an incredible aptitude for doing this type of work, it was almost like they had done it before."
For their part, early users of the human cashiers expressed support for the program, explaining that they appreciated the ability to buy goods without donating unpaid labour to retailers.
"They don't just ring through your items," explains Josh Chang. "They greet you, make corrections if the price is wrong. They sometimes even help you bag! It's really a great innovation, I hope they stick with it."
At press time, the Retail Consortium indicated that results were so positive that members were exploring ways to make even more money, with some beginning to experiment with saving money on cashiers by replacing them with self-checkouts.