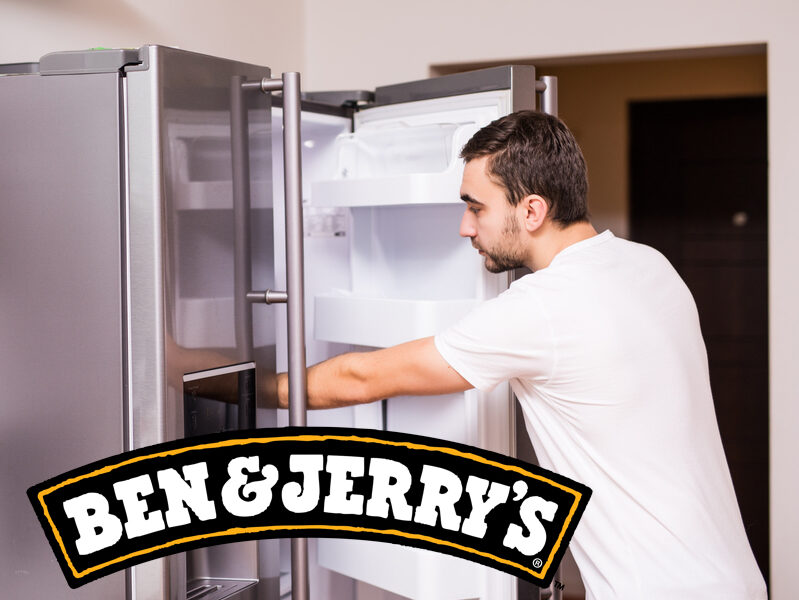 VERMONT – Popular American ice cream manufacturer Ben & Jerry's announced its latest flavour, today, coming to the public in the form of "Bachelor Freezer Burn".
According to founders, Ben Cohen and Jerry Greenfield, the company was considering what public figure they'd honour with a theme, when they decided that, instead of a line dedicated to typical fare like musicians and comedians, they'd recognize a significant member of their customer base.
Said Greenfield "We realized that we've never properly thanked our loyal customers for their decades of patronage. After coming to that conclusion, our subject was obvious: the pathetic, single man who spent a lonely Friday night wolfing down on a pint of ice cream while scrolling through pictures of Cynthia in Hawaii with her new boyfriend".
"We've celebrated Phish, now we're going to celebrate the guy in the Phish t-shirt".
Cohen added that the organization also hopes that the new addition to their offerings will also appeal to family men seeking to relive some of their memories of singlehood. "I hope to see Dads of all stripes swallowing spoonfuls in the parking lot while they wait for their daughter and her friends to exit the Olivia Rodrigo concert".
As is traditional with any new Ben & Jerry's product, "Bachelor Freezer Burn" will include its own special ingredients. In keeping with the theme, every bucket will be half empty to remind purchasers of that time they split a carton with Briana while watching Ted Lasso, with the remaining space consisting of a dense layer of flavoured cream under a significant helping of shards of ice. Scattered among cream and shards will be a sprinkling of stubble extracted from an electric razor, chunks of a diced Xbox controller, and the bristles of Audrey's toothbrush.
Greenfield further commented that he's particularly proud of the item's artwork; capturing the mood of the flavour with an image of grey-walled living room, devoid of any decor save for a black leather couch from IKEA, a beer cooler, and a 60-inch 8K TV playing the Extended Version of Sin City on DVD.
Cohen and Greenfield concluded the announcement by stating that future themes dedicated to customers will include "BTS Army Rations", "Bridesmaid Box Wine", "Multi-level Marketing Mango", "Birthday Cake for One" and "Rocky Marriage Road".