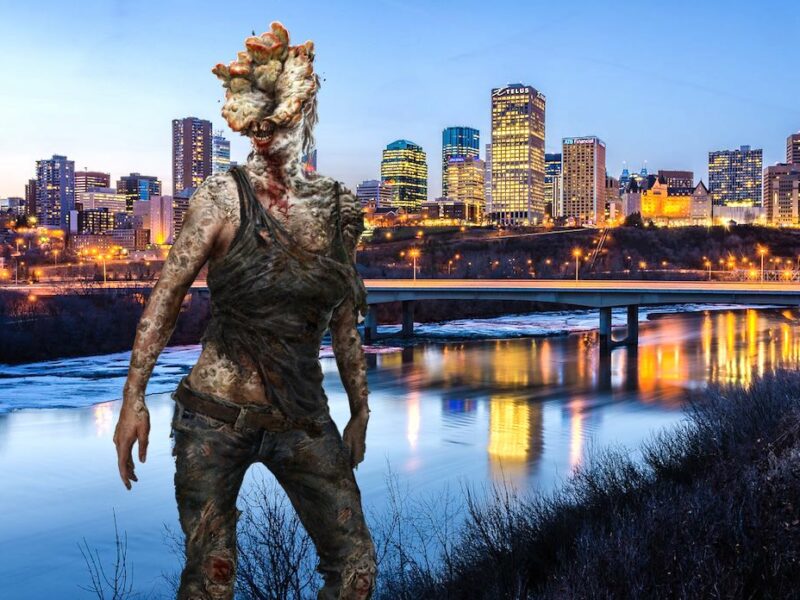 CALGARY, AB – Can't get enough of HBO's The Last of Us? Then strap a kid you just met into a pickup truck you inherited from a sweet gay couple, because it's time to head on west. Dubbed by some as "the New York City of stuff that looks like it's been abandoned for decades", Alberta is teeming with unsung attractions that scream TLOU.
Here are 5 trendy spots in Alberta that are giving total parasitic fungus zombie apocalypse vibes:
Stoney Trail, Calgary
Have you ever dreamed of being squished between Joel and Ellie in that weird little truck middle seat, driving along for hours while encountering zero signs of human life? If you answered yes, then Stoney Trail, Calgary's premier freeway, might be for you. Just call you Joel, because this soul-crushingly boring 92 km loop of pavement will have you wishing there was literally anything else to do, like begrudgingly bond with an orphaned kid who looks like she really, really, really wants to call you Dad.
Cactus Club
This one's a must-try! Alberta's 5 Cactus Club locations each bring the essence of the Boston QZ to life: it's hard to get in, everyone there has an agenda, and the vegan options suck. The only thing that would make this soulless, dimly-lit eatery any better would be a parasitic fungus zombie interrupting you mid-truffle fry to deliver the sweet release of death and drive the husk of your corpse like the rat from Ratatouille for all eternity. It's truly the best that Alberta has to offer!
Lammle's Western Wear
If you can brave the shambling hordes of politicians putting together their blue collar cosplay, western wear retailer Lammle's has all of the gear you need to survive the grim and unforgiving environment of Alberta — I mean, the apocalypse. Tip: Decking yourself out head to toe in denim is an excellent way to protect yourself against both zombie bites and guys with Fuck Trudeau hats.
West Edmonton Mall
The apocalypse called, it wants its putrid stench of decay and despair back! If you love the vibe of an undead corpse that reflects back the wrongs of the past and the bleak future that awaits humanity — but like, with a Boston Pizza attached — then you've come to the right place. Plus, someone on the Strathcona County Buy & Sell Facebook group said they once saw Pedro Pascal at the Gap. Love that guy!
Heritage Park, Calgary
This old-timey village is much more than the attraction you settle for when Lake Louise is full and your flight back to Vancouver leaves in 3 hours. Heritage Park is serving up a dusty, lead-laden plate of nostalgic yearning, something no self-respecting zombie apocalypse themed itinerary would be caught (un)dead without. Step into the shoes of a TLOU survivor by retreating to an enclave that rejects present reality and harkens back to days of yore. If Heritage Park is closed, don't fret — the Alberta Legislature can provide an identical experience.