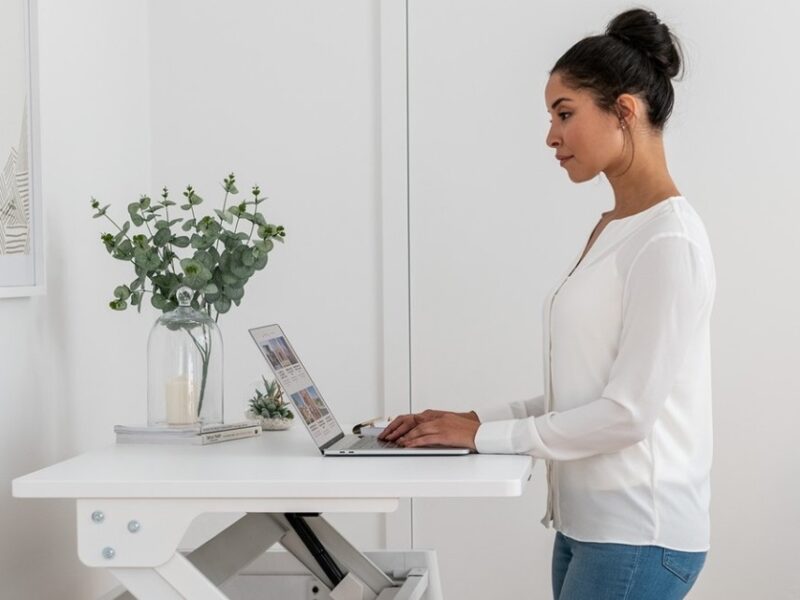 CALGARY – Local accounts manager Regina Lackie has discovered her new standing desk has an exciting unexpected benefit – it reminds her of how nice it is to sit down.
Lackie purchased a sit-stand desk after her doctor explained to her that sitting is "the new smoking." It was an especially worrying comparison for Lackie, a millennial who finished high school after DARE campaigns ended but before vaping became the coolest thing a person could possibly do.
"I set up my desk, stood for one Zoom call, and immediately started thinking about when I could reasonably sit again without people in the office judging me," Lackie recounted, firmly refusing to get up from her seat for this interview. "I remember thinking 'if sitting feels this good, I bet smoking is fucking incredible.'"
Lackie selected a desk with several features, including a motorized lifter, programmable settings, and phone charging pad. However not one of those features have proved as well-used as the desk's constant reminder of how pleasant it is to slump into a comfortable chair.
"You never truly love something until it's gone. And it's like Kate Moss always probably said," Lackie continued wistfully. "Nothing stands as good as sitting feels."
Eager to get her value out of the expensive purchase, Lackie began using the desk's "standing reminder" alarm, which initially encouraged her to stand for 15 minutes every hour, but now delivers an hourly rush of pleasurable serotonin every time she turns off the alarm and remains seated.
Additionally, Lackie has repurposed the under-desk plug designated for a treadmill attachment to power a heating pad for her office chair, offering the ultimate cozy sitting experience for the cold winter nights. The abandoned treadmill attachment collects dust next to an exercise ball, Lackie's first attempt at modifying her sitting habits and her first reminder that sitting in a normal chair for long periods of time absolutely fucking slaps.
But Regina still gets some standing time every day – on her morning and afternoon smoke breaks outside.
"I'm outside, I'm getting fresh air like 50% of the time, and the nicotine soothes my nerves about sitting so much," Lackie exalted.
"I really feel like that desk has made me a much happier person. Except for all the times when I have to stand."