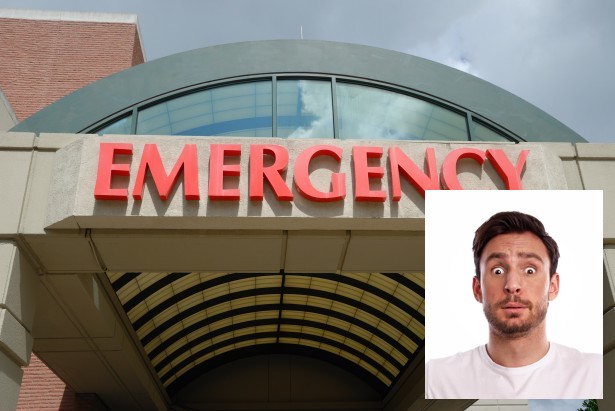 FREDERICTON – Onlookers are stunned as local software engineer Tyler Fontaine has spent the last 6 days continuously urinating into a medical sample cup.
For the past 140 hours, staff and observers have been gathered in the third floor bathroom of Tall Oak Family Medical Clinic as a completely silent Fontaine has been engaged in a seemingly never-ending act of sample collection.
Fellow patient Michael Dupuis reports being in the clinic waiting room, when the event began. "The two of us actually got our cups and went to the urinals at the exact same time and I thought 'this is weird'. But then, I finished up and he didn't, and I thought "this is weirder'."
In order to ensure that none of Tyler's scientifically-unique evacuation is lost to the clinic's plumbing, the city has organized a volunteer cup-brigade to handle collection. Two determined RNs flank Mr. Fontaine, occasionally shouting "Next!", signalling the filling of yet another container and the need for a new volunteer to swap in.
Strangely, this doesn't appear the first time a Freddy Beach resident has performed such an act of urethral note. Employees and customers at a Park St. barbershop are quick to cite the case of Anthony Rollins. "It was about 40 years ago," says owner Aaron Balmer, "at the local sperm bank. He didn't survive but, every year, we find ourselves giving a first-cut to a new set of what we like to call 'Tony's Toddlers'". Adds co-worker James McEachern, "They say he died the most relaxed man on the eastern seaboard".
Many are expressing their admiration for team of nurses who've been at Mr. Fontaine's side throughout his micturitional extravaganza, but they brush any compliments aside. Says Nurse Paramjeet Dhillon, "This is our job. We'll be there if you cry, scream or, in this case, silently blink out morse-code that says 'For the love of God, just stick a funnel in there and pour down some cement'".
At press time Mr. Fontaine's striking secretion continued, but most of the clinic's staff had to be sent home due to what one employee referred to as "the asparagus incident".