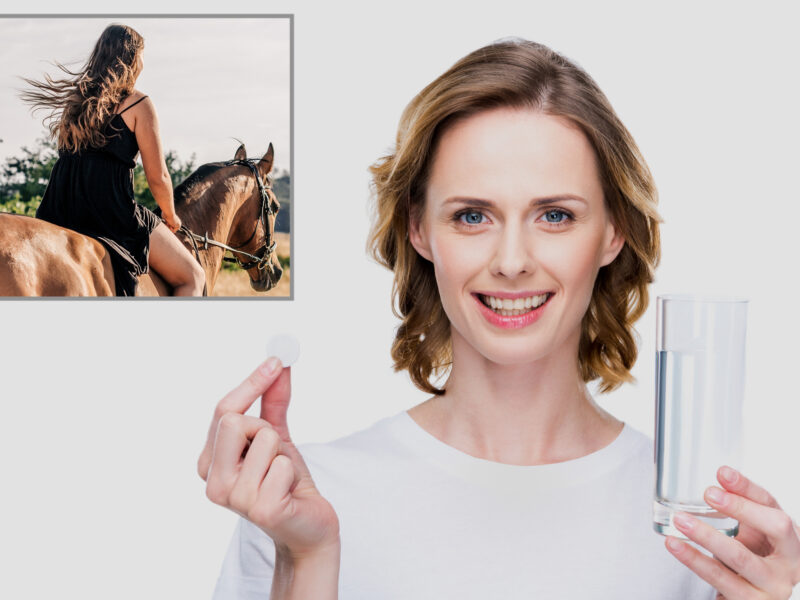 PRINCE ALBERT, SK – 25-year-old mother of two Rebekkah McElroy, once crowned "Lil Miss Horse Princess" in the 2002 Saskatchewan Harvest Fall Festival, has adopted a strict daily regimen of popular horse dewormer Ivermectin to stave off the effects of COVID-19.
"Big pharma doesn't want you to know that Ivermectin cures COVID," McElroy claimed, as her toddler softly wheezed and coughed on her hip. "What would they do if that got out? Sell it to us for a huge profit? I don't think so. They'd rather sell the more-expensive-to-make-and-administer vaccine for a medium profit."
McElroy, who spent her entire childhood talking exclusively about how much she loved Palomino horses because they looked like "the prettiest angels mixed with a Barbie doll," found it easy to pivot to talking exclusively about horse dewormer, as it's "just one extra word." Her closet full of horse merch has been snipped, sewn, and cross-stitched to include references to the barnyard dewormer she takes daily, but there is an undeniable centrepiece to her wardrobe.
"It took forever to sew the sequins on," McElroy beamed, showing off a denim jacket with an airbrushed horse on the back and a sparkly Ivermectin patch on each sleeve. "But it made me smile. Especially after I shit through all of my jodhpurs."
According to medical experts Ivermectin, which is available in several horse friendly flavours like "Appletastic," "Oodles O' Oats," and "Oops! I ate my Foal!" has no known medical efficacy against COVID-19. But that doesn't stop McElroy and her friends on the "Prince Albert Dressage/Horseback Enthusiasts" Facebook Group (name change to "Iver-H*ck-in Yeah!" pending) from stockpiling the dewormer and designing their own dosage plans.
"I mean, ketamine is a horse tranquilizer," McElroy explained. "And people take that shit all the time with probably zero negative consequences. My cousin tried it when we worked at the barn together and all that happened to her is she had a really really fun time in Snowball's horse stall for 20 minutes or so."
"Oh yeah, I knew about that," said local veterinarian Priya Gupta when asked about McElroy's foiree into horse drugs. "Nothing else would explain why her horse has so many worms. And why the stables smell like a different, more human kind of shit."
As local shelf stock of Ivermectin dwindles, a surging black market has emerged, jacking up the price of the product significantly. But McElroy is so convinced that Ivermectin is the solution to COVID-19, she even claims she'd sell the family horse to keep up with the regimen.
"Spirit is a good girl, and in many ways my best and only friend," McElroy sighed wistfully, "But if it comes down to caring for a lifelong animal companion or feeding my toddler medicine designed for a 2,300 pound Clydesdale, I know which choice I'd make."
When reached for comment on the matter, the makers of Ivermectin begged us for the name of a lawyer, any lawyer, who has experience managing "absolute PR shitstorms on the horizon."