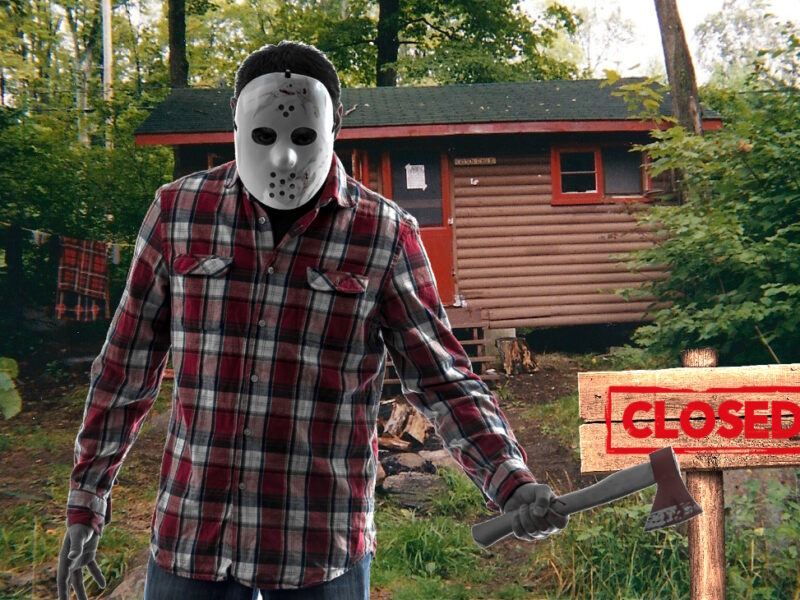 VANCOUVER, BC – With the cancellation of summer camp programs across the country, escaped murderer Billy Webber is finding himself unsure of how we will spend the season without a fresh batch of teenagers to terrorize.
"Because I live in an abandoned mine shaft and only emerge during summer, I'm really behind on current events," said Webber, leaning on his sledgehammer in the abandoned campsite. "I'm just lucky that newspaper blew in before I got ready to ambush kids taking a boat ride. I would've been waiting underwater for hours!"
In effort to occupy himself, Webber is taking full advantage of the fact he has the campsite all to himself. "I went out on the lake in the canoe, played horseshoes, and took a relaxing walk in the woods to set up a few booby traps for when the camp reopens. This place is actually so fun. I see why they stay in business despite all the kids who die here!"
Like many others in these times, Webber is also using the lockdown as an opportunity to expand his skillset. "Thanks to some activity guides I found in the office, I've learned some interesting things. Did you know you can use handsaws for things other than cutting people's heads off? And that you can make a bracelet even if you don't have any human skin at hand?"
I'm also doing Duolingo, because I've always wanted to be able to say 'you can run, but you can't hide' in Spanish," Webber added proudly.
When asked when he anticipates returning to homicide, Webber is uncertain. "This could be the first time this camp is murder-free in thirty years. I guess I could try and locate the girl that got away from me last time, but I draw the line at home invasions. I might just write this season off and start fresh next year. It's not the same unless I know they were telling ghost stories right before."
At press time, Webber was headed to the arts and crafts pavilion to make a new mask out of paper plates."