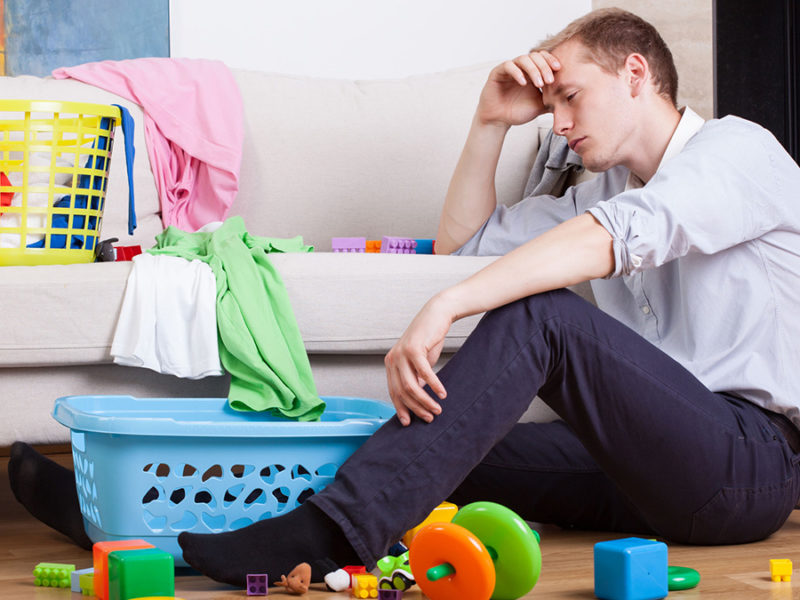 CAMPBELLTON, NB – When Local man Jared Thursby's head hit the pillow last night, it was with the weary satisfaction of a day well spent accomplishing absolutely nothing.
Thursby, recently laid off from his job as a restaurant manager, spent the first few hours of his day trying to homeschool his son Ethan, whose real school was closed because of the coronavirus pandemic. After spending two hours trying to remember algebra, Jared made a deal with his son that he could play video games for the rest of the day if he stopped asking his father how he passed grade 3. 
Thursby then proceeded to embark on a mission to reorganize the shelves in his garage, an impulse which manifested in the man standing on a ladder for 45 minutes scrolling through the news on his phone and twice composing facebook posts that he proceeded to delete.
"There's nothing better than going over your to-do list at the end of the day," said Thursby, "and ticking zero boxes before hitting the hay. I mean, I definitely feel tired, so, something must be happening, right?"
After throwing his latest failed attempt at 'bread' in the garbage, Thursby told his wife he was going for a run, only to stand on his front porch in running gear for 90 minutes looking at his phone and trying to process more horrifying news from around the world. After vowing to reduce his news intake, Jared stared at his wife and son for 10 minutes and considered either helping his son with his video game or having sex with his wife, and debated whether these activities would count as accomplishments. He then proceeded to go to the bathroom and masturbate.
"I'll give him one thing, he is very busy all the time," said Jared's wife, Samantha. "Sure, the housework is piling up and he is not bringing in any money, or even making his novel any better despite all the editing he's doing, but he sleeps well."
At press time, Thursby had fallen asleep at his desk, his face resting on a yellow legal pad with the word "GOALS" underlined on it.