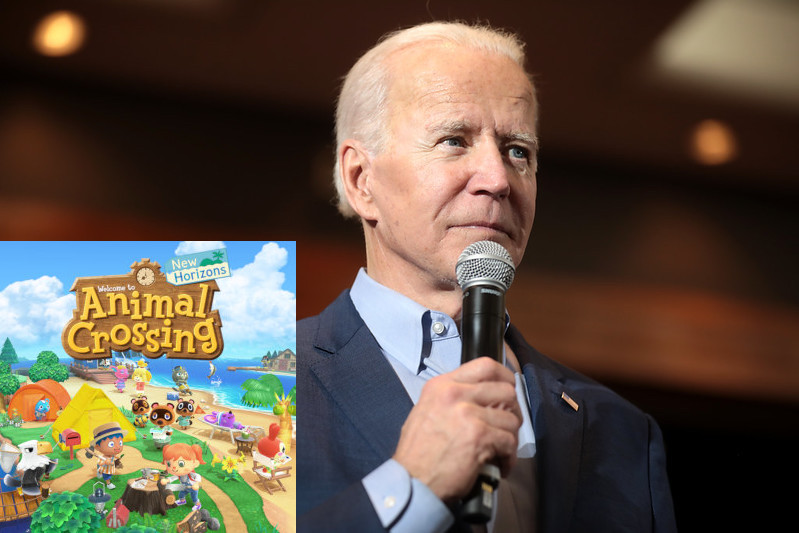 WILMINGTON, DE- Following mounting public concern regarding Democratic candidate Joe Biden's limited presence in the public eye, a his campaign announced Biden will begin addressing his constituents more frequently just as soon as Animal Crossing: New Horizons stops ruling so hard.
"I understand it's frustrating to have a presidential candidate go completely AWOL during such an unprecedented pandemic, but it's also important voters know the facts," said spokesperson Kelly MacPherson. "And the fact is, this game is just way too fucking sick."
According to inside sources, Biden has been unable to pry himself away from the idyllic simulation game since its release earlier this week. Experts cite the game's introduction of crafting and terraforming as a key addictive feature, as it allows Biden to "grind all night long", even when the shops close in the real-time game.
"2012's Animal Crossing: New Leaf was an OK game and caused minor problems during the final Obama term, but what we're faced with now is unprecedented. New Horizons is just way too dope" said visibly exhausted speech writer Jon Simon, "He can't stop building birdbaths and catching trout. The only way we can get him to do a televised address is when his avatar is sleeping. I was up until 6am last night. I miss my family."
Insiders point to one of Biden's few recent appearances, an awkward remote interview with MSNBC's Nicole Wallace, as another victim of his "falling hard down a Crossing hole". Said one staffer, "People kept assuming Biden was fumbling his words because of his advanced age, but it's because he kept trying to remember how many bells he owes Tom Nook for his farm expansion."
"Why can't he be this kind of memory for real, non-cartoon video game policy," added the frustrated staffer.
While voters across the country have voiced anger at the presumptive Democratic contender for largely stepping out of the public eye during the mounting COVIS-19 crisis and looming economic collapse while other public officials, like opponent Bernie Sanders, have been making frequent virtual fireside chats, staffers were quick to defend their boss' absence, saying that while he may not be addressing the public as frequently as others, he is still accessible.
"Look if you're so keen on talking to the guy, why don't you just join his Switch friends list and visit his island?" questioned campaign staffer Bryce McQuinty. "Open up the chat keyboard and go catch butterflies together or something. Oh, and please for the love of God, if somebody out there has pears as their native fruit could you please invite Joe over to take one so he can plant it on his island? All day he just mumbles about the goddamn pears."
At press time, Biden staffers voiced concern over his new interest in more violent games, fearing that the former senator's vote for the Iraq war would escalate to puppeteering excessive militarism from the safety of his own home, thusly causing him to lose interest in campaigning all together.