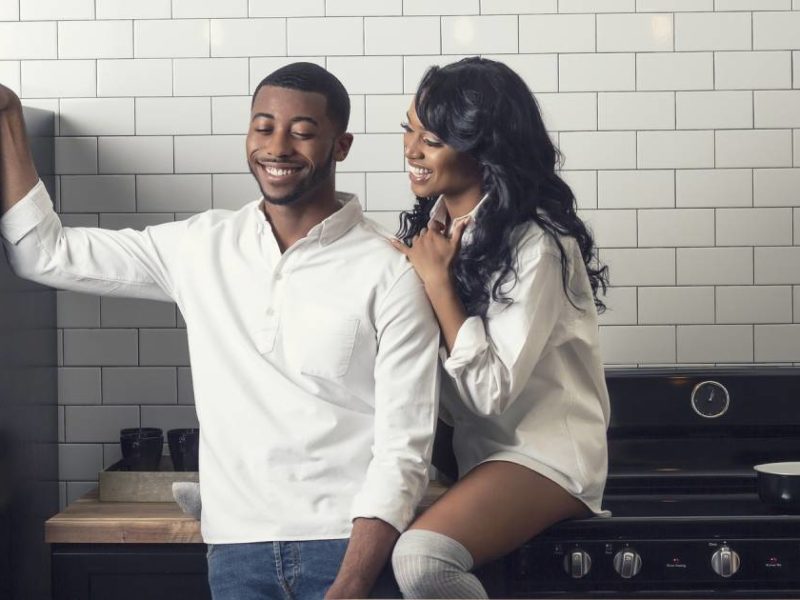 KELOWNA, BC – After two years of consistently mind blowing sex, Greg Hayes and Lauren Morgan Clark are ready to take their relationship to the next level and start cooking together.
"Greg and I figured out each other's deepest desires pretty quickly," said Lauren, 27, said folding a stack of crotchless lace panties. "Getting to cum so hard every day makes you realize there's other ways to be adventurous as a couple."
Having only previously used their kitchen for counter-top quickies and weekend bang-a-thons, Greg and Lauren are curious to use the space in a more traditional sense. They preferred eating out whenever possible but admit it will be nice to feel each other up under the table in the comfort of their own home. The couple has agreed to commit to cooking together three nights a week, including a Taco Tuesday, where Lauren will no longer present herself spread-eagled as the main course. 
A neighbour who has lived next door to the couple since they moved into the building is hopeful their experimentation will bring some peace and quiet back to the 14th floor.  "It's weird knowing your neighbours' safe word but not their day job," commented Marcus Tomlin. "I've stopped having people over because they think I'm a huge pervert for living next to them, which I'm starting to think I might be."
Greg and Lauren admit their current meal choices are a little bland and want to try and get their taste buds hot and bothered with spicier recipes. They briefly discussed bringing in a third person but decided they needed to explore their own limits with garlic first. Last week, Greg reported feeling extra naughty while out grocery shopping and ventured into the spice aisle.
"Before I knew it my basket was full of cajun seasoning, cayenne pepper and chilli powder," Greg, 30, said biting his lip. "It felt so wrong, I had to grab some whole wheat flour and white sugar to cover it up. I couldn't even look the cashier in the eye when she rang them through."
While Greg believes he will be satisfied with one good meal at the end of the day, Lauren would like them to make time for three meals a day in the future.
Image via Pixabay