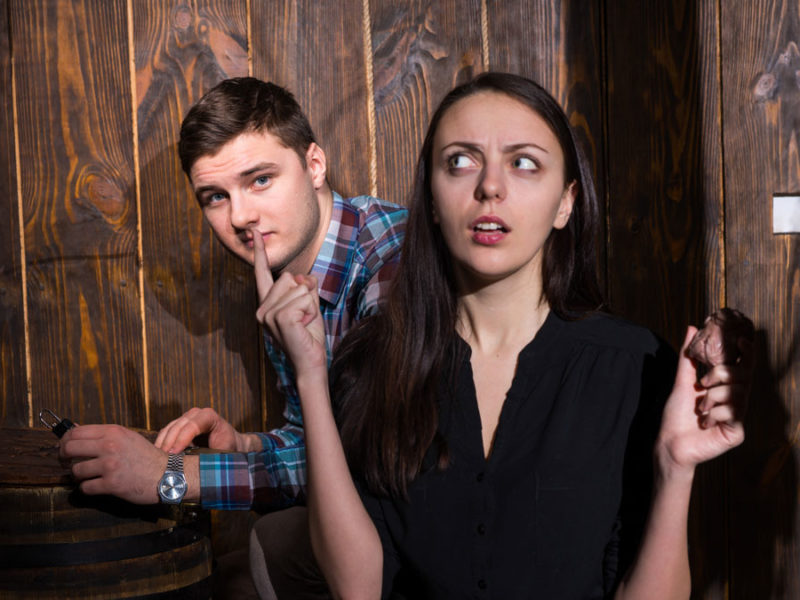 VAUGHAN, ON – Local woman, Caroline Burton, visited Lockpick Escape Rooms this past Thursday to play a new fantasy themed puzzle, "Deep Dungeons of the Darkspawn Guild" with her boyfriend, Fred Dolandson. She hoped to provide Dolandson with the immersive experience of entering a situation with a series of complex problems, and doing all the work for him.  
Burton chose the location for her boyfriends birthday, knowing he would enjoy the fantasy elements like orcs, swords and having a woman you're dating willingly solve your problems for you, as though she is your mother.
"I mean, I think technically the game is supposed to be about teamwork" says Burton "But since solving problems seems to be my job lately, I figured I'd give him the full experience and get it out of his system…or at the very least get him out of the house and away from that Goddamn screenplay he's been writing forever."
The room itself has been designed for two players, featuring a series of puzzles that  theoretically can't be solved by one person. Attendants who watched the game report that Dolandson spent the first ten minutes loudly yelling the wrong answer over and over again, before sitting down and visibly giving up."
"Sure, it can be tough, but relationships are like this five digit code lock," says Burton. " At first you think it's something you're doing wrong, but then you realize there's actually another clue that helps you solve it. In our case, that extra clue is his crippling self esteem problem and refusal to go to therapy."
Difficult though it may be, Burton believes it has been a good challenge for both of them. "It's nice to have the time limit. You know? Like a ticking clock, that counts down and reminds you that you just have to double-down and solve this thing on your own because you locked yourself in here and you're not going to be fertile forever."
At press time, Fred Dolandson declared his experience in Deep Dungeons of Darkspawn Guild to be "a real eye opener" and has decided to abandon his screenplay in favour of  writing a six part fantasy series.
Image via Deposit Photos