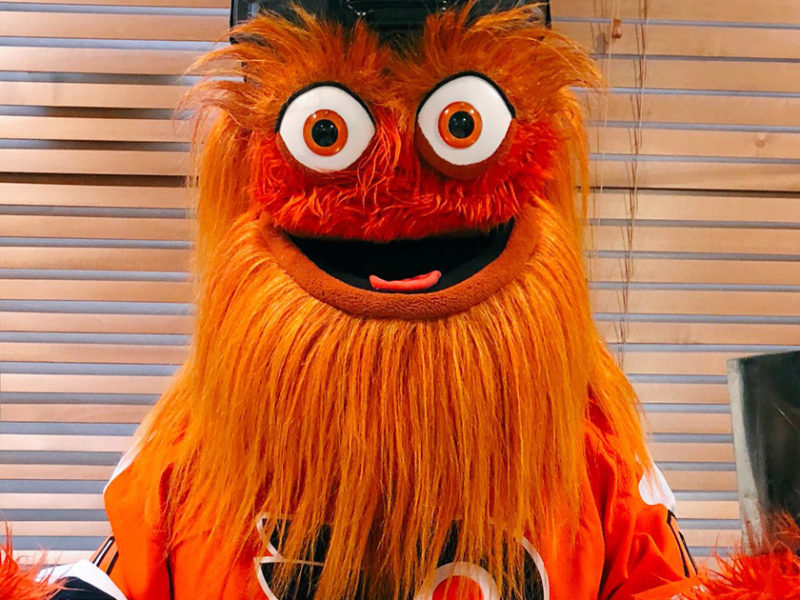 PHILADELPHIA – During a media scrum earlier this morning, members of the Philadelphia Flyers were brought close to tears upon learning that mascot Gritty was something other people could see as well, and not the demonic presence cursed to exist in their minds that they originally thought.
"We thought for sure Gritty was some nightmare hellscape spawn sent to haunt us for our sins," explained Flyers captain Claude Giroux. "We just weren't sure if it was because of the Broad Street Bullies, the Lindros saga, or maybe the Eagles sold our souls so they could finally win a Super Bowl. All we knew is we were terrified."
Gritty is a 7-foot-tall creature resembling a rotting mango covered in thick orange hair. It has volleyball sized googly eyes while wearing a much too small visorless helmet, and a Flyers home jersey sporting the number 00, both the use of a double-zero and a non-regulation helmet are illegal in the modern NHL suggesting that Gritty is a lawless creature who exists outside of the rules of society. For some reason Philadelphia has chosen this as their mascot despite a deep seated uncertainty as to whether or not the being held a corporeal form that others could see.
"If I had known I'd have to deal with watching that thing dance, I might have just gone into marketing," said Nolan Patrick, drafted 2nd overall by the Flyers in 2017. "I have never seen anything embody respect and sportsmanship less… it's like it's always taunting us, always smiling, always watching with unblinking eyes. You're sure the rest of you can see this?"
Cross-state rival captain Sidney Crosby of the Pittsburgh Penguins was reached for comment and laughed the whole situation off.
"That's a very Flyers thing, to think they're the only ones who can see Gritty. Sometimes I think they're too in their own heads," laughed Crosby. "I mean, what's next? Us all here in Pittsburgh suggesting we're the only ones who can see Pin'Kel the 2-inch tall imp we use as our mascot who spends all game sitting on the puck and shrieking curses at those nearby? Nope, we love Pin'Kel here in Pittsburgh! The secret to stopping the shrieking is getting him to say his name backwards during a power play."
As of press time Sidney Crosby and the entire Philadelphia roster have been asked to undertake concussion protocol.
Image via Twitter