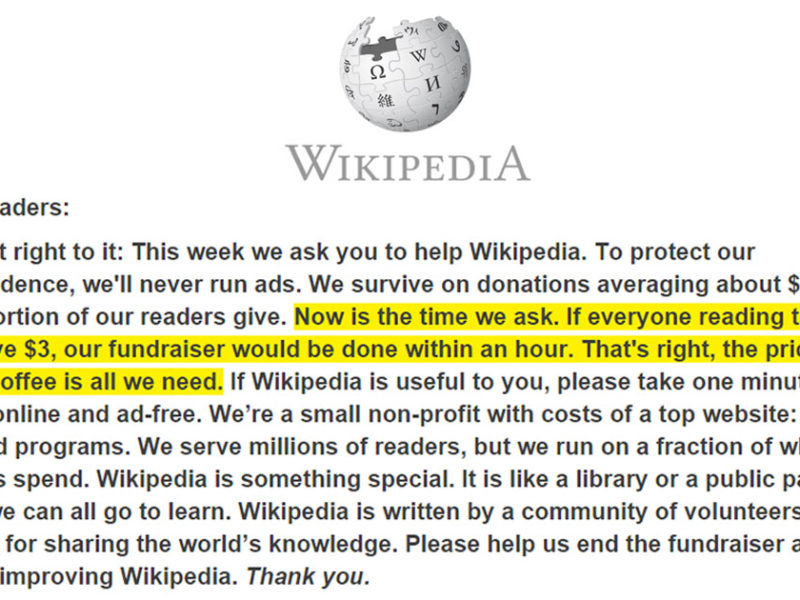 SAN FRANCISCO – Internet encyclopedia Wikipedia revealed today that it will cease operation after suffering an insurmountable deficit of $3.00 this fiscal year.
"Our accountants said there was nothing we could do with stunning this shortfall," said Wikipedia co-founder Jimmy Wales to reporters outside Wikipedia headquarters. "The website clearly pleaded for contributions from our users on a regular basis. The fact that we were unable to get the $3.00 we needed to continue, it left us with no choice but to shut down entirely."
As a non-profit foundation it has been estimated that 100% of Wikipedia's funding came from user donations via begging alone. As such, the organization depended on shrewd economics to stay afloat by paying its writers and editors absolutely nothing.
With the site going dark effective immediately, Wales illustrated one of his main concerns about a future without Wikipedia: "I honestly don't know how shiftless students will complete their half-assed essays now.  And that…that just scares the heck out of me."
At press time, people still couldn't be bothered to pay for news either.
With files from Aaron Hagey-MacKay
Image via Wikipedia