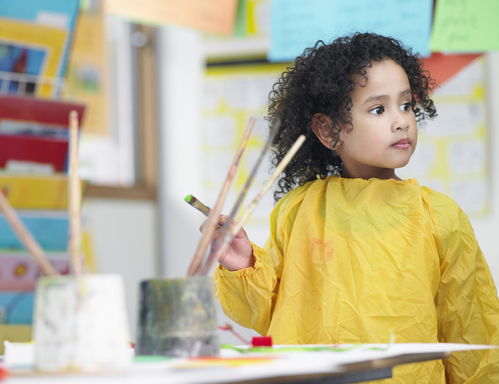 NEW YORK CITY — The U.S. Smock Market closed down nearly 19 points on Friday, capping off a week that saw a 42 per cent drop across the board, making it the worst smock market crash in history.
The crash has sent shockwaves across the frock, apron, and chemise industries, with dozens of distraught smock brokers hurling themselves from the second-floor windows of Hobby Lobby and Michaels arts-and-crafts stores.
"This is devastating," tweeted Ron Fuller, manager of the Pinafore 500, a mutual fund that invests exclusively in the indoor-exterior-clothing industry. "How am I going to feed my family? And what am I going to wear when I do it?"
For the moment, trading has been halted while the government considers a bailout of the sector, despite warnings from textile experts that the industry is unlikely to rebound in the future.
"Smock prices have been down ever since Adobe launched Creative Suite in 2003," says smock market analyst Sandra Lee. "As soon as painters realized the palette wasn't going to leak out of the screen and onto their black turtleneck sweaters, smock sales began to drop and the sector never fully recovered."
For years the smock market has been buoyed by artisanal craftspeople and renaissance festivals, with particularly strong support by artisanal craftspeople who work at renaissance festivals, as well as renaissance festivals that hire artisanal craftspeople to construct the sets for their renaissance festivals.
"It's just not a sustainable client base," says Lee, who predicts this is the end of the smock's dominance over the global fashion industry. "Soon people will have to go to their local fabric outlets to invest in a smock exchange, and most of us will be relegated to Instagram accounts that only feature unlicensed smock photos. I know that sounds wildly dystopian, but the smock is on its way out — overalls-based mutual funds and gaucho pant futures are the new reality."