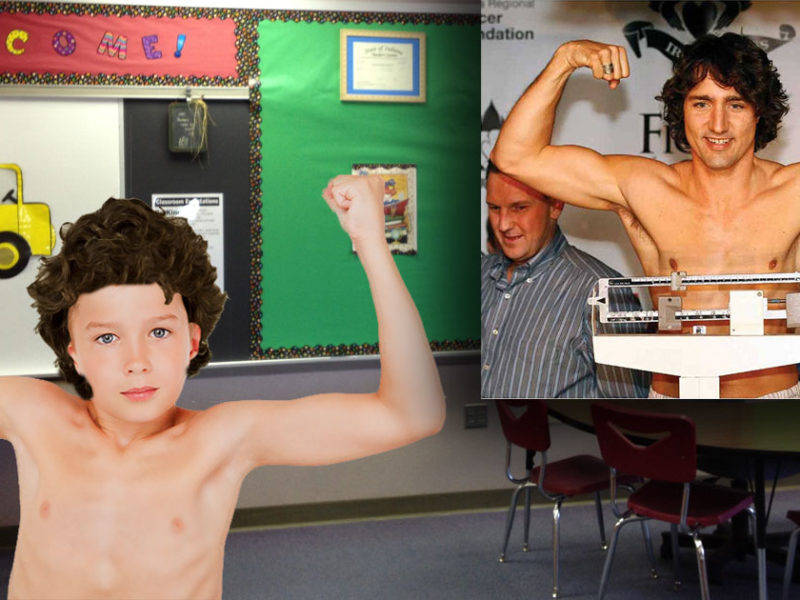 PORT COQUITLAM, B.C. –  Wanting to emulate his favourite feminist superhero, a local boy has spent several seconds preparing his costume as the Right Honourable Justin Trudeau by taking off his shirt and jumping in front of people taking selfies.
"I want to go as the Prime Minister because he's cool," said Maddock Murphy, 7, adding that he's already figured out the hair with a Disney Prince Eric from The Little Mermaid wig. "Everyone is going to want to take a picture with me and watch me do yoga."
According to sources in his grade 3 classroom, Maddock has proposed a gender balanced class room because, he says, "it's 2015." However, critics, like classmate Gillian Cardinal, point out he promised to bring clean drinking water to the Halloween party reserves but then "said he forgot."
"Every kids knows no takesy-backsies," Gillian added.
Maddock's parents are supportive of the costume idea, but pushed back, asking if he'd rather go out as a real superhero like, Batman or The Hulk. "He just said that they weren't real, but Justin Trudeau saves people with a single tweet, is able to summon the power of human tears, and can build oil pipelines with the power of his mind," said Maddock's mother, Patricia. "He's so excited at home, running around saying he's travelling at the speed of a pride parade," added the boy's father, Stan.
At press time, Maddock's mother made him put on a jacket over his costume because it was cold outside.
Images via Deposit Photos / Pixabay