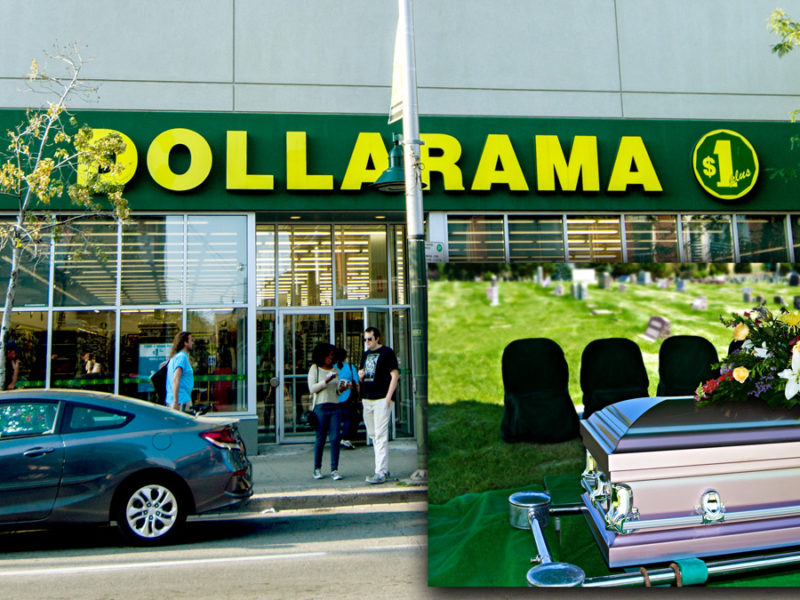 MONTREAL –  Despite the event being at least several months away, Dollarama, the nation's largest dollar store chain, has already begun stocking decorations for your funeral.
As early as last Monday evening, staff have been seen filling shelves with black tinsel, fake lilies, "FUNERAL" car signs, sunglasses shaped like coffins, black plastic 'funeral quality' rain ponchos, single-use shovels, disposable 'RIP' cocktail napkins, imitation ceramic urns, corrugated cardboard caskets, and a variety of pressboard tombstones with your name on them.
"This is a common merchandising tactic," says Ramona Brown, author of the dollar store marketing bible Our Baubles, Our Shelves. "Retailers will put out stock well ahead of schedule to give consumers a sense of urgency. Studies have shown that when we think about the rapid passage of time it triggers a natural reflex to stock up on trinkets, knick-knacks, tchotchkes, doo-dads, and bric-a-brac."
Other retailers have leveraged the same principle, says Brown, citing Wal-Mart's wildly successful "Only 1,167 More Shopping Days 'Til You're Cold in a Box" countdown campaign and Pepsi's popular "Drink Pepsi then you die" slogan in the 80s.
Company spokesperson Tal Mollica denies that the chain is trying to put existential pressure on its customers. "We're really just trying to be there for our customers at every stage of their lives," says Mollica, standing in front of a wall of "Happy New Year 2036" party hats. "Their short, fleeting lives."
Dollarama's funeral merchandise can be found in aisle five, between the Canada Day flags and Christmas wreaths.
Images via Flickr/Deposit Photos