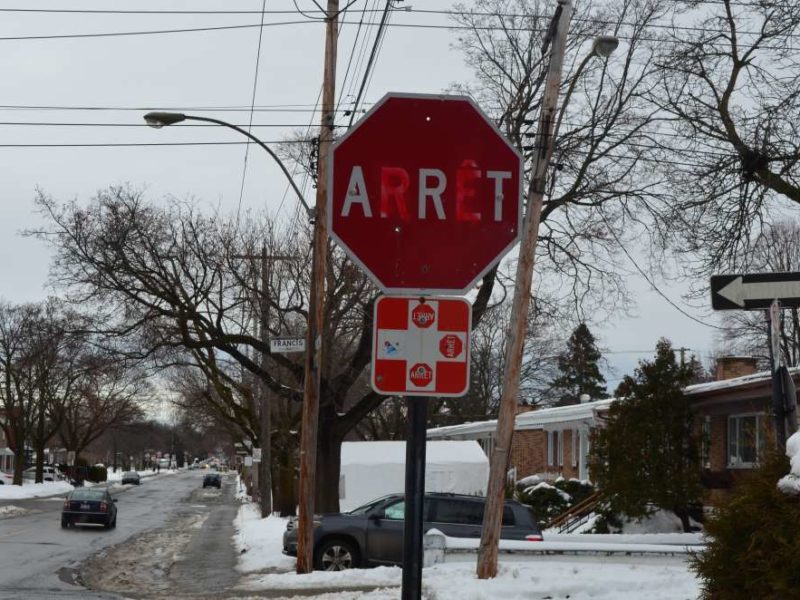 MONTREAL — A subversive piece of public art has sent tremors through the Montreal art community and the city at large: At the corner of Rachel and Mont-Royal an unnamed artist has transformed a panneau arrêt into a sign that reads: "art".
Sources in the art community say several well-respected visual artists have set fire to their studios out of respect for the piece.
Critic Jeanne Chabot commented on her experience with the piece. "I was confronted by the work on a street corner and immediately arrested by its profundity. I couldn't even stand. Luckily it was right next to a bus station and I was able to sit and collect myself."
"The most incredible thing about this piece is how it never gets old. I'm as in awe of it today as I was when I first saw it in 2001 on Duluth, and in 2002 on Saint Denis, in 2003 on St. Andre…"
Damon Pratt, an MFA student writing his thesis on the piece, emphasized its importance.
"You see, it works on so many levels. Once the R and E are erased, the sign says 'Art' and then the sign itself becomes art! And — Well, I guess it just works on that one level."
The work will be on display for the next month at its new location: the bedroom wall of a second-year UdeM student.