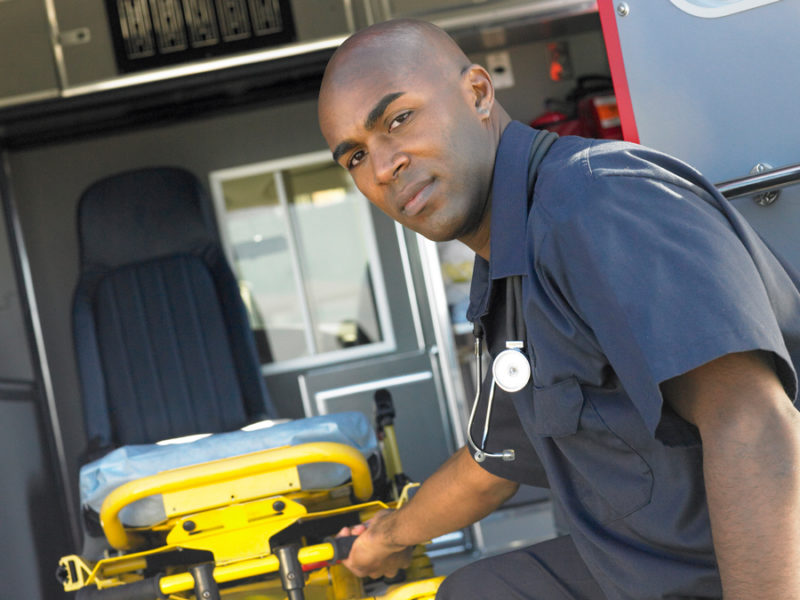 There are few jobs as challenging as being an emergency medical technician. Low pay, long hours, dangerous situations; it takes a certain dedication to help people like that. And for one man in particular, it's the life-debt he's owed when he saves someone's life that keeps him going day-after-day.
Most paramedics are just there for a pay cheque, which is why it's so inspiring when David Hannah, a 41-year-old EMT from Edmonton, comes to visits the people he's helped, months after they've been released from the hospital, to bring them into indentured servitude indefinitely.
"When I get to see the smile on someone's face when they realize I'm the paramedic that rescued them in the time of greatest need," said Hannah, driving an ambulance to pick up one of his newest slaves. "My heart swells with joy when I get to tell them that I own them now. I saved their life and so I get to keep that life. That's the law."
"It's the most satisfying part the job."
Over his 15-year career, Hannah has collected on 23 life-debts, 16 of whom are still alive today, living with him today in his one-bedroom apartment. Wow!
"When he told me that I had to go with him, I was confused," said Jeffery Sanderson, 57, a former advertising executive who went into cardiac arrest 6 years ago only to be resuscitated by David Hannah's skillful use of a defibrillator. "But after he explained it to me, it made sense, I guess. So now I spend most of my days picking up dry cleaning, driving him around or going grocery shopping. At nights he just wants me to rewatch Riverdale with him and then talk about it for hours until he gets sleepy and I tuck him in."
"Please tell my family I miss them dearly."
"It's a lot of responsibility," said Hannah. "Sometimes it gets too difficult to feed them or take care of them. Sometimes they just get sad. I've had to sell a few of my life-debts to other paramedics, who are usually happy to take them off your hands."
"It's just part of the cycle. A cycle that can only be broken once one of them saves my life, which will never happen."
If only more paramedics were like David Hannah! Here's hoping those reading this article will take it to heart and start to visit the people they save and collect their own apartment filled with obedient, ethically-motivated servants. What a beautiful world that would be! 
Image via Deposit Photos