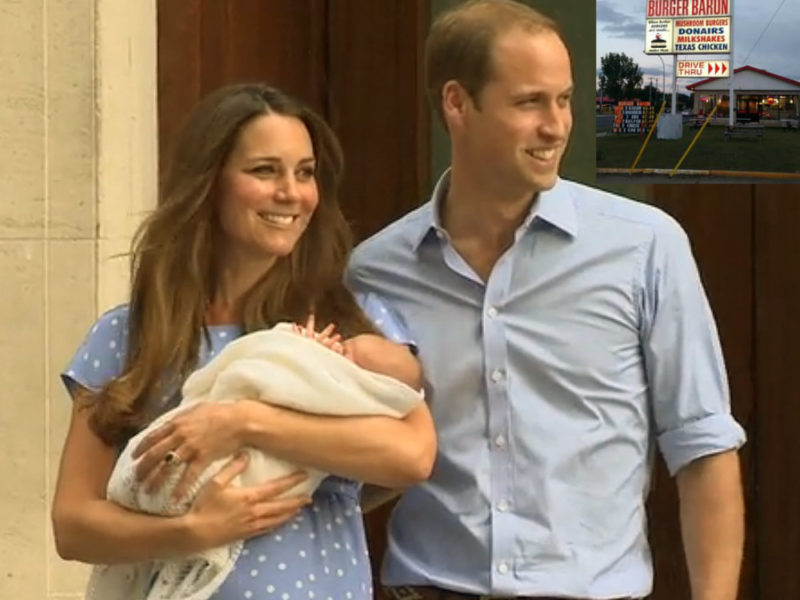 EDMONTON – While the the news that Her Royal Highness The Duchess of Cambridge and The Duke of Cambridge welcomed their third child on Monday – a little brother for Prince George and Princess Charlotte – delighted most members of the royal family, it was an unwelcome development for Edmonton's Burger Baron.
"People don't realize I'm an actual Baron", said the Burger Baron, Earl of Sandwich on the phone from his restaurant in Leduc. "I am a full-on baron and until this little jerk was born, I was in the top ten of the line of succession!"
There were once up to 90 Burger Baron locations worldwide after the first Burger Baron opened in 1957. Today only about 30 remain, mostly in the greater Edmonton area. These setbacks along with a slew of pretty rough Yelp reviews have forced the baron to more seriously look at ascending the British Throne.
"Look I get it, okay? William wants a kid to succeed him. Fair enough", conceded the Baron. "But do you gotta have three, guy? We get it already; you've had sex. Get off it, bud! I've had sex plenty of times. Don't listen to what any of the those sons of bitches at Arby's say. I've had sex!"
Asked if it even matters, given the highly unlikely event that all nine people ahead of him in line would die at once, the Baron refuted that idea. "Oh guy! Ten people die all at once all the time! I see that happen all the time! Just friggin' constantly!"