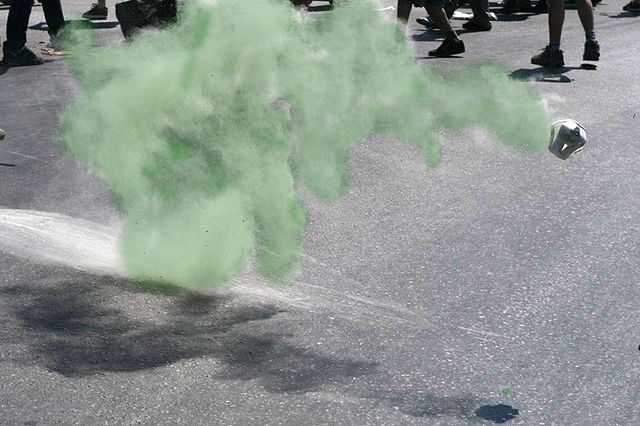 MONTREAL — Revelers were treated to a rare spectacle, Saturday, thanks to Montreal's police service (SPVM) when officers in riot gear broke up the annual St. Patrick's day parade by firing festive green tear gas into the crowds.
Not to be left out of the festivities, SPVM riot squad officers could be seen with shamrock sunglasses behind their visors, green beaded necklaces, and batons stamped with "Kiss Me I'm Irish!".
As the riot squad descended on the crowd, officers could be heard announcing over loudspeaker in English and French: "This is an illegal demonstration, return to your grassy countryside and thatched roof houses."
No one was immune to arrests Saturday afternoon. Zip-tied leprechaun mascots were transported by the bus load for processing. A man dressed as Saint Patrick was seriously injured when he was hit by a projectile.
When asked to justify their strong response to a seemingly peaceful, organized parade through downtown Montreal, an SPVM spokesperson offered as explanation the fact that the parade had been moved from St. Catherines Street to Maisonneuve Boulevard.
"The Court of Appeal might not agree with us, but if you do not give us a detailed route we will declare your manifestation illegal." said the spokesperson adding, "Of course part of it was just that we wanted to give an authentic experience, being victim of violent persecution is as Irish as a Pint of Gat!"