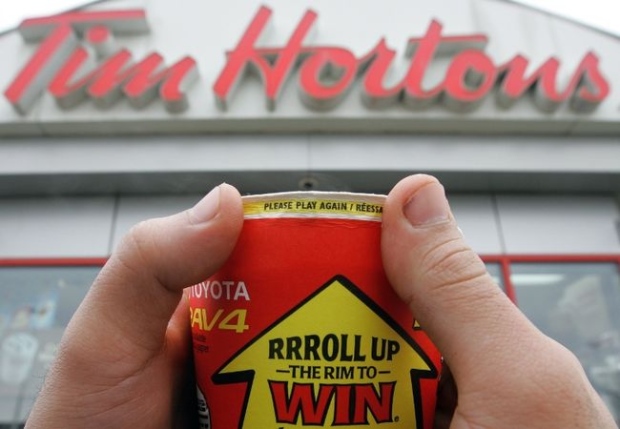 HAMILTON – Remaining willfully blind to proper poetic structure in order to maintain a chance at winning a free coffee, Tim Hortons customers across Canada participated in Roll Up The Rim To Win today, accepting 'rim' and 'win' as a rhyme quietly and without argument.
"It's hard to believe that's their best work," customer Gladys Shepperd, 73, told reporters. "Maybe it's worse if it is. Either way, I'm winning one of those Honda Civics."
The nationally recognized marketing campaign was initially developed in 1986 by Canada's number one third best marketing team. "The list of slogans we drummed up was exhaustive," recounted Bill Kerry, Tim Horton's head of marketing and lead executive on the campaign. "We had Roll up the Rim with your Limbs, Roll up the Rim when life is Grim, and Roll up the Rim for Him (Tim Horton). My idea, which was just 'Rim Tim', was outright rejected. We had reached a standstill."
Out of options and working against a deadline, the signature phrase, 'Roll Up The Rim To Win' was offered to head executives, who kind of squinted and tilted their heads back and forth, ultimately saying "Eh. Okay."' The rest is history.
In 2018, Tim Hortons will give away over six hundred free prizes valued at five thousand dollars or more, all while using one slogan valued at five dollars or less. The slogan joins the long list of other bad things Canadians have accepted with a tepid shrug including; Canadian Tire money being legal tender, the first-past-the-post electoral system, and René Angélil essentially making Céline Dion a child bride.
At press time, Kerry revealed a new marketing campaign for chili and soup with discounts listed
on select take out containers and its working slogan "Meal Time, Get A Prize".