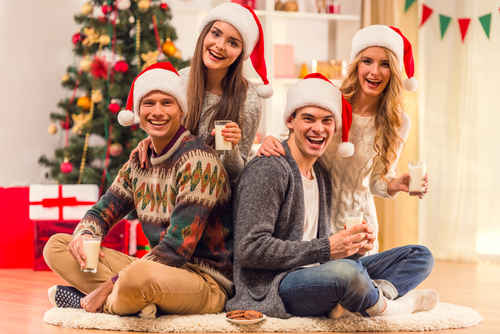 MONTREAL – For the sixteenth year in a row, flaxen haired, blue eyed Christine Wiley, 24, has been placed in front of lanky brother Jack Wiley, 17, and her brunette sister Lindsay Wiley, 28, for the Wiley annual Christmas card photo.
"We contemplated putting one of our other two children in the foreground this year, as Lindsay just graduated with honours from medical school and Jack was the MVP of his club soccer team," said Mrs. Wiley, adding that in the right lighting both of their personalities really shine. "But neither of them are as symmetrical as our Christine!"
Sources reported that though Mr. and Mrs. Wiley love all of their children equally, they feel it's important to put their hottest foot forward when wishing their friends and extended families good tidings.
"I know that as a father, I'm not supposed to notice or even care about how attractive my children are," Mr. Wiley advised, looking to his wife, "But it's just so obvious."
Previous Wiley family Christmas cards included Christine dressed as a mischievous elf with Lindsay and Jack in reindeer masks, Christine as a sexy wiseman, and Lindsay and Jack as two, far less sexy wisemen.
"She's not centre stage every year," said Jack. "When she was eight she knocked her two front teeth out horseback riding and my parents put our golden retriever in her place. But the very next year her adult teeth had grown in and she was back at the front."
At press time, Lindsay and Jack were positioned behind a large Christmas tree, peeking out from behind to look at Christine who was set under the tree with a tasteful, slightly off centre bow on her head.