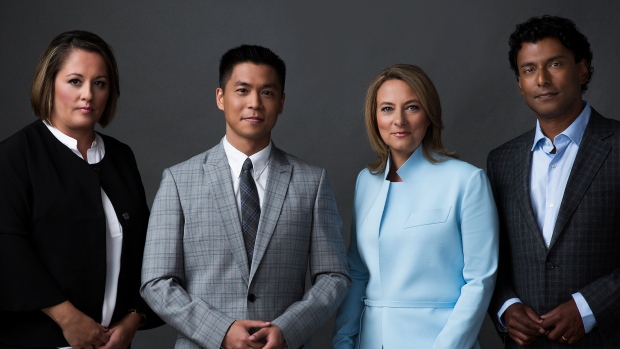 TORONTO – Following the departure of longtime anchor Peter Mansbridge, CBC executives have decided to hire a diverse collection of hosts, each of whom will receive an equal share of Mansbridge's previous salary.
"Mansbridge was one of the greatest journalists of our generation," said CBC president Hubert Lacroix. "Sure, he was a high school dropout but we felt there was something about his skin and penis that made him worth $1.1 million annually plus a pension of $500,000 a year for the rest of his life."
However, Lacroix strongly believes that the combined four BAs, two journalism MAs, and one law degree of his new hosts will add up to the credibility of a single Mansbridge. Albeit, barely.
"We thought about giving it to Ian [Hanomansing] outright but it's just hard for Canadians to believe someone if they're from another country unless that country is anywhere in Europe," said Lacroix. "As for Adrienne [Arsenault], how can you trust a breaking news story if the person giving it might be having, you know, 'woman troubles'?"
That's when Lacroix got the idea to expand hosting duties to include Andrew Chang, and Rosemary Barton.
"I sent the revised salaries to HR and they said the numbers – when combined with the gender and ethnicity – made perfect sense. It was a huge win for diversity," said Lacroix. "These new hosts send the right message to women and minorities across Canada: if you study hard and do great work you can one day do a quarter of the job of an uneducated white man."
While the average pay gaps between white men and white women, and white men and minority men is less than 20%, all four anchors released statements saying that they are contractually obligated to be "thrilled" to be making exactly 75% less than Mansbridge.
This hiring decision is being hailed as far better than the CBC's back-up plan: disinterring the body of Knowlton Nash.
Image via CBC