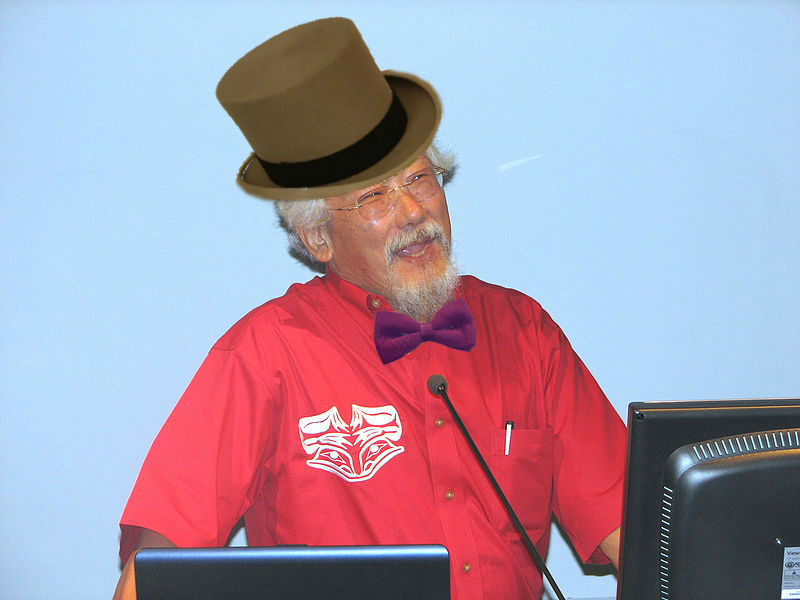 VANCOUVER – A hush fell over the rapt crowd on Monday as mysterious environmentalist David Suzuki appeared in public for the first time in years to choose a successor.
Heavily favouring a golden walking stick as he limped from the Whole Foods on 4th Avenue (above which the Suzuki Foundation Offices are housed), and toward the throng of mystified onlookers, Suzuki confounded expectations when his walking stick stuck in the cobbles, and he seemed to fall forward, but then turned it into a magnificent forward roll, popping back up to his feet to boisterous applause.
Festivities wrapped up quickly at this point, as Suzuki (who was elected to the Royal Society of Canada and is a Companion of the Order of Canada for his achievements as a geneticist) ushered five children and their diverse guardians out of sight to undergo a series of mysterious trials that will determine which child takes over as Chair of the David Suzuki Foundation and Fish Biologist at the Department of Lands & Forests in Sudbury, Ontario.
The five children were selected through a random lottery, having each found a special biodegradable hemp ticket attached to a fish they caught (and then threw back).
In a brief statement to reporters, Suzuki refrained from giving any hints regarding his unorthodox selection process, but did say that finalists who failed to live up to his arbitrary, impossible-to-predict standards could look forward to powerful lessons in morality, and ghastly physical disfigurements.
"I am the gatekeeper," yelled Suzuki, hefting his ebullient top hat into the air, "of a world of pure imagination!"
"Science!" he added.