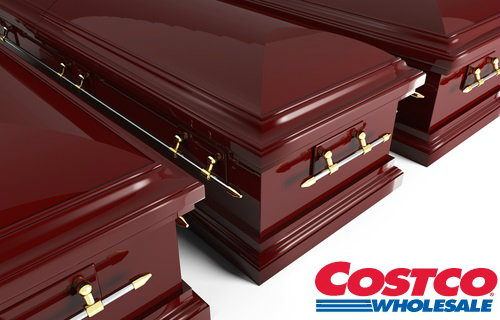 MEDINA, WA – Costco co-founder Jeffrey Brotman was laid to rest last week in one of the caskets purchased in bulk found on aisle 27 near the coffee grinders and hot tubs.
According to mourners, Brotman looked "peaceful" in a cherry-coloured Kirkland Signature Coffin, which came in a five pack at a cost of $7999; a savings of 20% per casket.
Thousands of consumers paid their respect by presenting their Costco membership cards as they entered the funeral home and left flowers and messages of condolences.
"It's something he would have wanted," explained Valerie Kydd, a loyal customer of the warehouse retailer. "He always wanted to pass on the savings to us."
Corporate executives say that they will keep the other identical caskets to save on the next four employee funerals.
Later in the day, Cranberry goat cheese, protein bars, and Kirkland Signature "take-and-bake" BBQ chicken pizza was served in sample size cups at Brotman's wake.