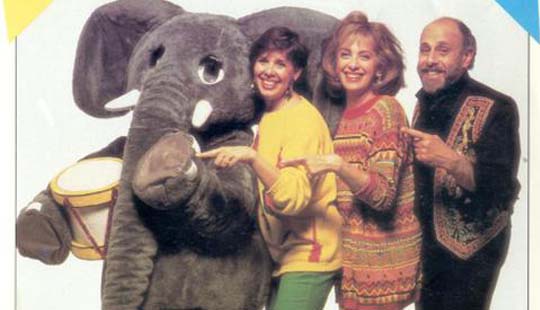 TORONTO – TVO has announced plans to launch a gritty reboot of The Elephant Show, the popular children's program that made Sharon, Lois & Bram household names in the late 80s.
In an attempt to recapture the original series' now mature audience, the new Elephant Show will take on a decidedly darker, edgier tone.
The series will continue to focus on the folk group, but the parts of Sharon, Lois, and Bram will be played by a trio of sexy teenagers. The show will follow the group's struggle to get their garage band off the ground while also balancing the pressures of school, fractured home lives, and a torrid love triangle, all set in a town reeling from the recent murder of a local teen.
Elephant, the show's nonverbal animal sidekick, appears similar to his original incarnation. A series of flashbacks will explore the events that led him to join the group, beginning as a circus performer and continuing through his search for redemption following a deadly stomping spree.
Online reaction to the announcement has been mixed. "Down came the rain and washed my childhood out," tweeted one fan, a reference to the ill fortunes of the Eensy Weensy Spider.
"I don't see what the big deal is," said founding band member Sharon Hampson, noting the group is no stranger to casting shakeups. "By the time we made it big in the 80s we were already on our third Bram."
"Yeah," agrees Bram Morrison. "Wait, what?"
Tyler Kristopher, the 19-year-old slated to play teenaged Bram, is excited for the project. "I really want fans to see the authentic Bram," says the teen who was born nearly ten years after the original series went out of production, and who has abs up to his neck. His beard will have to be applied daily by a make-up artist.
Executive producer Candace Todd thinks viewers will find the show strikes a balance between nostalgia and controversy. "We actually toned things down a bit in the development process," she notes. "The original pilot saw 15-year-old Bram having a sexy affair with his 30 year-old music teacher, but we backed down from that. Because who would watch a show like that, let alone produce it?"
"Monsters, that's who. Horrible, horrible monsters," she added.
Music remains a core element of the new show, as the band performs classic numbers with updated lyrics to reflect the show's new tone. The novelty song Mairzy Doats, for example, now begins "Mares eat oats and overdose / and little lambs need IVs." Skinamarink, perhaps the group's most recognized tune, now concludes "I'll **** you in the morning / And in the afternoon / I'll **** you in the evening / And underneath the moon," and is performed with reimagined hand gestures.
Little Bunny Foo Foo, a song about a sadistic rabbit who brutalizes the local field mouse population until being mutilated by a vigilante fairy, will remain unchanged.