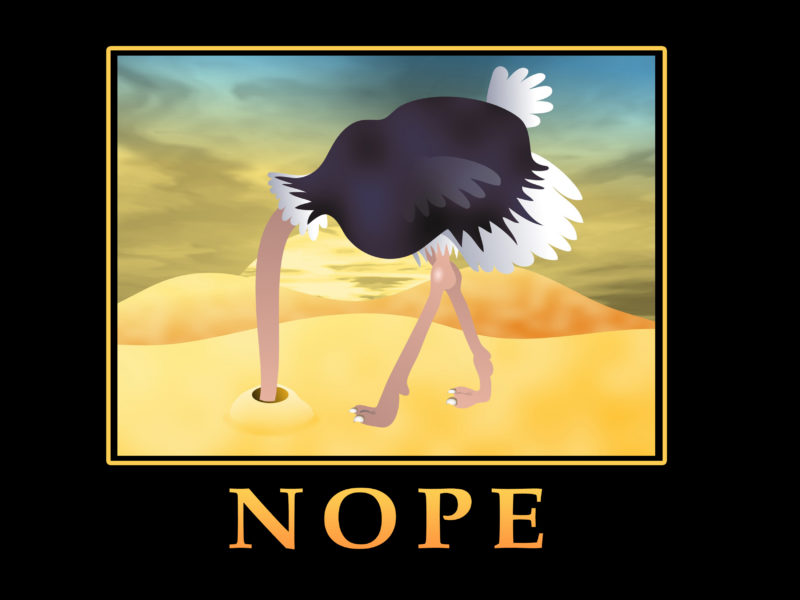 UNITED STATES OF AMERICA – As the dust settled on the first week of the new U.S. administration, millions of Americans sought to redecorate for the impending apocalypse by tearing down their decades-old "Hang in there kitty" posters and replacing them with a picture of an ostrich with its head in the sand.
Reacting to a flurry of new executive policies that are somehow offensive while making no grammatical sense — such as deporting same-sex Muslim science — citizens have largely abandoned their unofficial patron saint of the plucky underdog. An abrupt onset of nationwide ennui has spawned an explosion of replacement motivational posters featuring ostriches, prairie dogs, deep-ocean sea slugs, and other species classified by the Linnaean taxonomic system as "animals that just can't even."
"I hung this poster of Mr. Bo Dangles when I was in college," said Martin Dill, an engineer from Boston, Massachusetts. "It kept me going through a lot of difficult times in my life — final exams, my first marriage, Sammy Hagar ruining Van Halen. I'd look at that scrappy little furball and really believe David Lee Roth would come back to us. But he didn't, and the world's gone to shit. Now I need a poster that inspires me to let go of that rope and embrace the darkness."
This shift in national mood has brought about calls for a variety of similar adjustments, including petitions to change the national motto from "E Pluribus Unum" to "Ad Nauseam," and the national symbol from a bald eagle to a bald eagle sucker-punching an ostrich with its head in the sand.