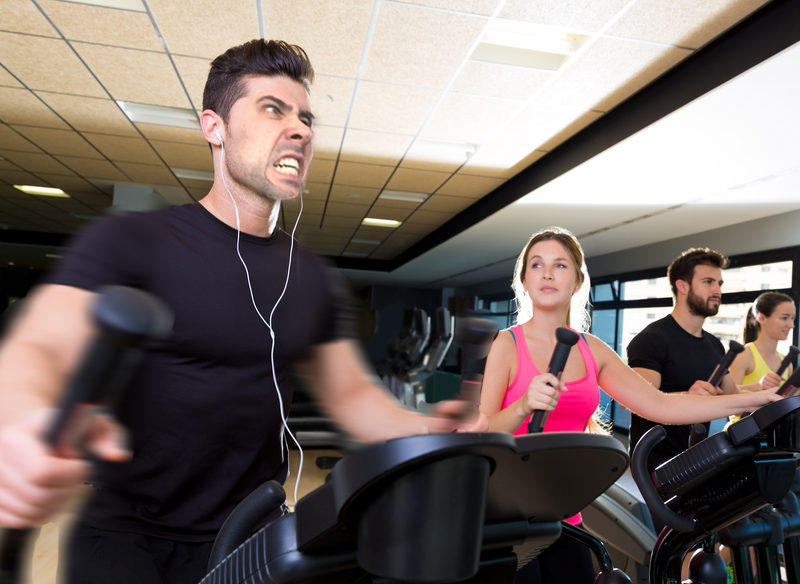 SUDBURY, ON – Grunting audibly as the machine threatened to topple under his force, local man, Jeremy Gaston, 36, was seen riding an elliptical runner at a nearby gym this week in a way that witnesses could only describe as "vengeful."
"It was as if he was exacting a decades old blood debt from the exercise equipment for the childhood murder of his mother and father," said Planet Fitness manager, Kelly Hutchinson.
"He told me he was making good on a New Year's resolution, but now I see he'd been planning this moment for years."
Sources say Gaston's panting-filled and aggressive workout perturbed other clientele, while staff were dispatched to investigate the noises which they say sounded, "like a mechanical scream on top of an over-acted heart attack death scene." Many, traumatized by the horrific scene, were granted full gym membership refunds of $10.
"That poor, poor elliptical," said onlooker Marie-Claire Ste. Jean, who joined the gym two weeks ago. "Whatever happen in the past, that machine has more than paid for it now."
"I'll never forget the look in his eyes," said Kyle McMurray, who handed Gaston a towel at the front desk. "He was desperate. It was the look of a man who was prepared to die in order to do what he thought needed to be done."
Security footage shows Gaston's offensive lasted only eight minutes before the exasperated man released himself from the elliptical, gasping for air and water. He was soon after overheard by the drinking fountain remorsefully muttering to himself "My God! What have I done?"
At press time, witnesses say Gaston was choking a Shake Weight like he caught it trying to abduct his daughter.