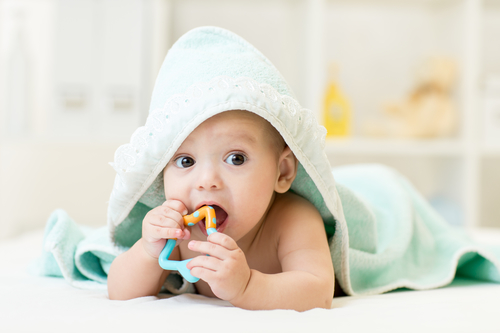 MONTREAL — Local parents Tim and Suzanne Skinner share a common fear of many new parents of the 21st century: is their baby's online brand strong enough?
"I read a study in the Journal of Early Childhood Marketing that said it is critical for parents to establish their baby's personal brand online within the first few months of life," explained Suzanne.
Marguerite is already 6 months old, and the Skinners are worried she won't crack 10,000 followers by age three.
The couple says they've heard that a baby without a "killer tagline" in their Twitter bio is more likely to fall behind in other areas of social media development such as personalized hashtags, viral Facebook posts and Instagram sponsorship deals.
"It's all about lifestyle," said Tim. "Snacktime, playtime, bathtime: you've got to show that your baby's got a lot going on and there's never a dull moment. Sometimes I keep Marguerite up through her nap to do a couple extra photoshoots."
"We made the mistake of waiting too long after our first daughter's birth to secure a website in her name," lamented Suzanne. "Can you imagine my shock when I found out that 'AshleyMadison.com' was already taken? No mother should have to go through that."
Tim confided that they sometimes worry their first child's weak online presence is diluting Marguerite's brand. "When it comes to Marguerite's development, aesthetic consistency is just as important as object permanence," Tim insisted.
"We just don't want her to get cyberbullied later in life," explained Suzanne. "God forbid she not be asked to guest on a friend's podcast or have to face the wrath of the Beyhive."
At press time, Tim and Suzanne had just announced that Marguerite had secured a lucrative sponsorship deal for a weight-loss pill that comes in an attractive pink gummy form. "It's so on-brand for her," gushed Suzanne. "We couldn't be happier."