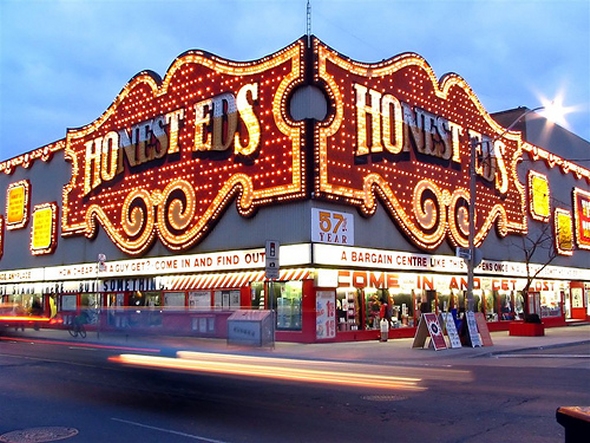 TORONTO – Honest Ed's, the Toronto discount shopping institution, will shut its doors today after 68 years. As the neighbourhood mourns its loss, the builders responsible for the redevelopment of Mirvish Village insist they plan to keep the spirit of what everyone loves about the place: the terrible word play.
"Say goodbye to low low prices, and hello to high high rises!" exclaimed Westbank VP Jordan Steinway with an embarrassed wince.
Westbank, the property development corporation who won the bid for the valuable real estate, hopes to win over its new neighbours by requiring all commercial properties in the complex to have pun based names. Already planned are vintage record store "Vinyl Resting Place," Pink Floyd-themed barber shop "Wish You Were Hair," and candle shop "You Can't Candle The Truth."
"This site had plenty of heritage and zoning restrictions," insists Steinway. "But thankfully we were able to get through the city approvals process by dazzling the OMB with the kind of lazy double entendres that would make Ed Mirvish blush."
Neighbourhood residents seem surprisingly at peace with the closure.
"I always loved the 'Honest Ed, he's a nut! But look at the cashew save!' sign," said Margaret Henderson. "Even though the store is closing, I can take comfort in the fact that they're not opening up a Walnut Mart! Huh? Huh?"
"I couldn't believe how easily it was to sway the board with a Dad Joke," reiterated Steinway. "We literally said 'our floors are as crooked as the politician who signed off on this' and they rushed our application through. Usually, the OMB takes its bribes in secret."