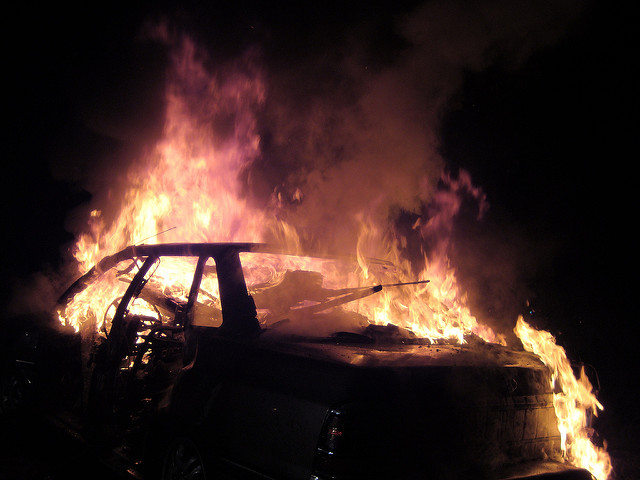 MONTREAL — An inattentive member of an anti-gentrification gang accidentally set her own car ablaze, Wednesday, during a planned attack on cafés, upscale clothing stores and trendy barber shops in the traditionally working class neighborhood of Hochelaga-Maisonneuve.
"My Saturn!" witnesses say the unknown assailant cried out just moments after lighting a gas soaked rag stuffed in the tank of what turned out to be her 1995 Saturn S-Series. The agitator is said to have attempted to douse the flames with her cloak but gave up when she realized she had exposed her identity to the public.
In broad daylight, the gang smashed storefront windows, set fire to cars and spray painted anarchist slogans on the walls of businesses to promote their cause.
One of the revolutionaries was overheard saying to fellow gang members "I spray painted 50 pages of Malatesta's Umanità Nova on this cafe's wall so the owner would understand how gentrification is affecting our neighbourhood."
Despite being in one of the poorest and underserved areas of the city, many of the witnesses of the attack described feeling a new conviction towards capitalism and the rule of law. Witness Isabelle Lepage, 5, said that the attack made her want to be an investment banker when she grew up.
Police say they have a few promising leads on the identities of several members of the gang. The owner of a local food-coop told police that he was surprised his store front was attacked in the fracas. He recognized several of the assailants as employees of his shop and wondered whether they remembered they had shifts the next day.