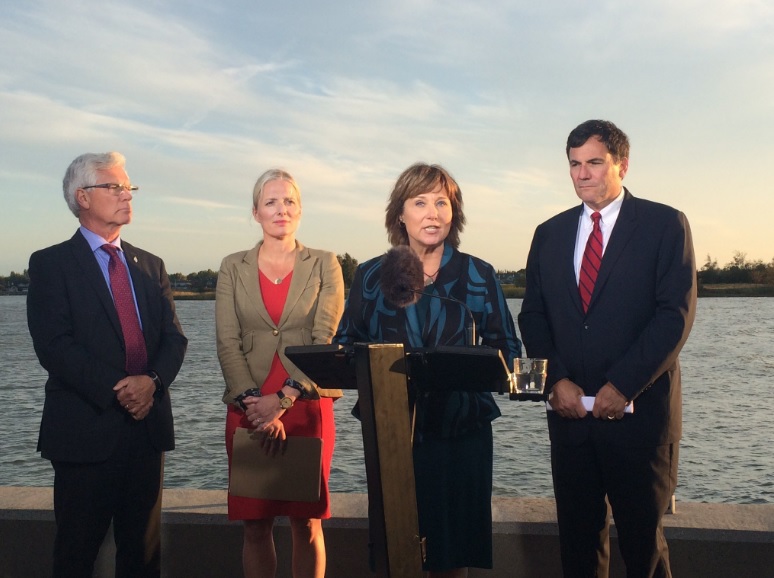 Richmond, BC – The federal government has approved the $36 Billion Pacific NorthWest Liquefied Natural Gas project; an investment which is expected to eventually produce thousands of disaster relief jobs.
"We consider this development an investment in Canada's future," explained Prime Minister Justin Trudeau at the official announcement. "In particular, that time in the future when this project causes a giant ecological catastrophe."
Flanked by Environment Minister Catherine McKenna and Natural Resources Minister Jim Carr, Trudeau cited the many jobs the project will provide to Canadians.
"This development will go on to create diverse employment opportunities," said Trudeau. "Everything from emergency medical first responders, to clean-up engineers, to decontamination specialists, to the people that bring bottled water to all these other people as they feverishly try to save as much of the natural environment as possible."
Despite this enthusiasm from the federal government, some local residents worry the development's economic benefit is too tenuous.
"I think the Prime Minister is overstating the positive impact of this thing," says forklift-operator and Fort St. John resident Owen McGrath. "I mean, a huge spill of 10,000 gallons of liquefied natural gas sounds great on paper. But how long does he think we're willing to wait for that to happen?"
Nonetheless, Catherine McKenna has made assurances to the public that the project will lead to local job growth even if it fails to produce a devastating spill.
"I would remind those skeptics that this development will create no less than 8.5 megatonnes of new greenhouse gas emissions," said the Environment Minister. "As the country's greatest source of atmospheric pollution, this project will certainly bring us closer to the destruction of our ecological sustainability even if a huge leak in the pipe fails to materialize."
"Think of how it will harm local fish and wildlife. Think of how it will diminish our national air quality. Think of how it will accelerate global warming," she added. "This means jobs for lawyers and lobbyists to fight fines and regulations. This means jobs for builders when we inevitably have to make arks and subterranean bunkers in which we will move our civilization as we wait out our man-made environmental collapse."
When reached for comment, local First Nations communities looked forward to the job opportunities the pipeline will provide their lawyers and protesters when Pacific Northwest LNG inevitably breaks their agreements.