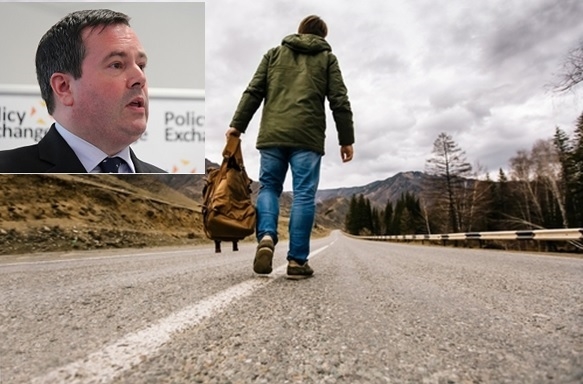 OTTAWA – Former Conservative MP Jason Kenney has made the decision to flee Ottawa and make a perilous 3,500 km journey across dangerous territory to seek a new life in Alberta.
After the Liberal Party seized Parliament in October 2015, the former cabinet minister went into hiding, only showing his face to make a partisan jab or attend a party fundraiser.
"In my previous life, I had a good paying job and several cabinet posts," explained Kenney, who fled with nothing but the clothes on his back and hundreds of thousands of dollars in questionably legal donations. "Then the election happened. My life was turned upside down. Now I have nowhere to go, no family, and no friends to listen to me accuse Syrian refugees of being terrorists."
The 48-year-old's voice began to tremble as he recalled his recent experiences under the Trudeau regime.
"I was… I was forced to fill out a long form census."
Joining a long line of other federal Conservative MPs, staffers, and lobbyists, Kenney walked along the TransCanada Highway from Ottawa to Edmonton, stopping only to point out the tattered Economic Action Plan billboards he once cut the ribbon on so many years ago.
His main goal is to cross the Manitoba border in order to escape the clutches of Ontario provincial warlord Kathleen Wynne. Once arriving in Tory-held Steinbach, Manitoba, he will see if he can catch a ride on a CN freight train that, if it doesn't derail, will make it to Edmonton within a couple of weeks. But Kenney recognizes that, even if he makes it, he still faces long lines trying to seek refuge in the Alberta Legislature.
Kenney vented his frustration at how long the process can take: "They say I have to get elected before I can enter, which can take years –  AND I need a plural majority of votes. That will cost tens of thousands! But I know Alberta is the only place where someone like me can not only survive, but thrive."