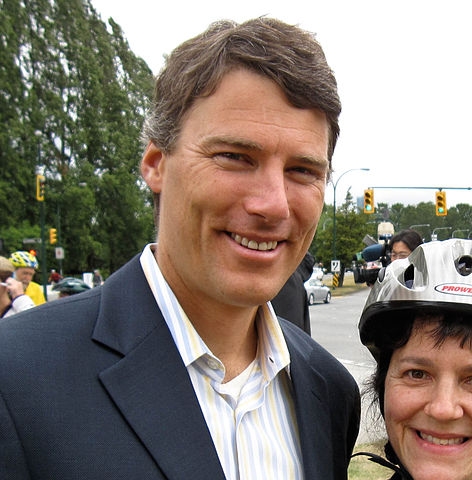 VANCOUVER – His Excellency the Right Honourable David Johnston, Governor General of Canada, announced today 69 new appointments to the Order of Canada. The new appointees include two Nobel prize winners, a Pulitzer Prize winning author, an Academy Award winning actor, 14 decorated military officers, and Vancouver Mayor Gregor Robertson's perfectly sculpted jawline.
Established in 1967, the Order of Canada recognizes outstanding achievement, dedication to the community and service to the nation. Gregor Robertson's jawline is specifically being recognized for its unwavering support of Robertson's face as well as its service as a national symbol of Vancouver's roughhewn mountains and lumberjack heritage.
BC premier Christy Clark was not at all surprised by Robertson's jawline's achievement.
Clark recounted, "The other day I was with Gregor at an event at Emily Carr University. I was taking in the art gallery and found myself unimpressed by a Group of Seven painting – largely because of the lack of pipelines – when Gregor's jawline entered my field of vision. Needless to say, I was floored. That thing's a masterpiece.'"
Upon hearing the announcement, Gregor Robertson's long-time friend Bob Rennie commented, "Listen, I don't want to belittle Gregor's achievements. Certainly, he has done a lot with his life from cowboying in the caribou to founding the multi-million dollar juice company Happy Planet. But, reasonably speaking, could he have achieved any of those things without his godlike mandibles? Doubtful. Very doubtful."
Prime Minister Trudeau also decided to weigh in on Robertson's jawline's recent success. "I am overjoyed to hear of Gregor's jawline's Order of Canada appointment," the Prime Minister noted in a speech early today. "I have been a fan of that thing for as long as I can remember. I can only hope that one day my dazzling eyes, popping abs, or luscious Jon Snow-inspired hair receive a similar accolade."
When asked to comment, Gregor Robertson's jawline remained stoic against the mayor's face: perfectly hewn, unbelievably eternal.