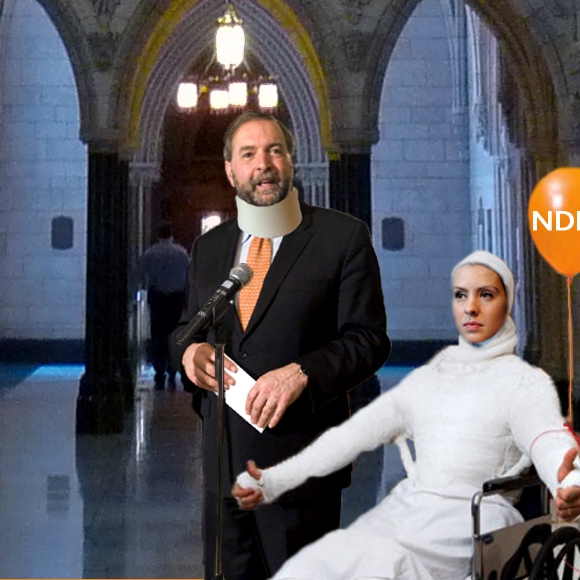 OTTAWA – All 44 members of the NDP caucus arrived in Parliament this morning wearing neck braces, arm slings, head bandages, and seated in wheelchairs after yesterday's physical altercation with Prime Minister Justin Trudeau.
"Justin Trudeau has ruined my life," said Thomas Mulcair, wheeling himself into the House of Commons with one arm while the other was in bandages. "I've lost my ability to do the thing I do best: yell and point my finger. I will be pursuing full damages for my pain and suffering."
The NDP claim that the Prime Minister's vicious attack took place as the party was having a calm, respectful conversation about how to help poor orphans.
"He came running at me like a blood-thirsty maniac who crushed my body and my soul," said Manitoba's NDP Niki Ashton who was in crutches and wearing an eyepatch. "As a result, I have chronic pain and the inability to win leadership races."
The NDP was not the only victim of Trudeau's supposedly ruthless attack.
"He threw me over the balcony," said Conservative whip Gord Brown while wearing a tight neck brace and moaning just loud enough to be heard by assembled reporters. "His eyes were like the fiery pits of hell! If he had any class, he would step down from his position and give me $383,000."
Injury lawyers from Diamond and Diamond are pursuing a class action lawsuit against Trudeau and the House of Commons for $100 million and are reminding MPs that if they have been injured in a Justin Trudeau-related Parliamentary accident to call 1-800-SUEJTNOW.