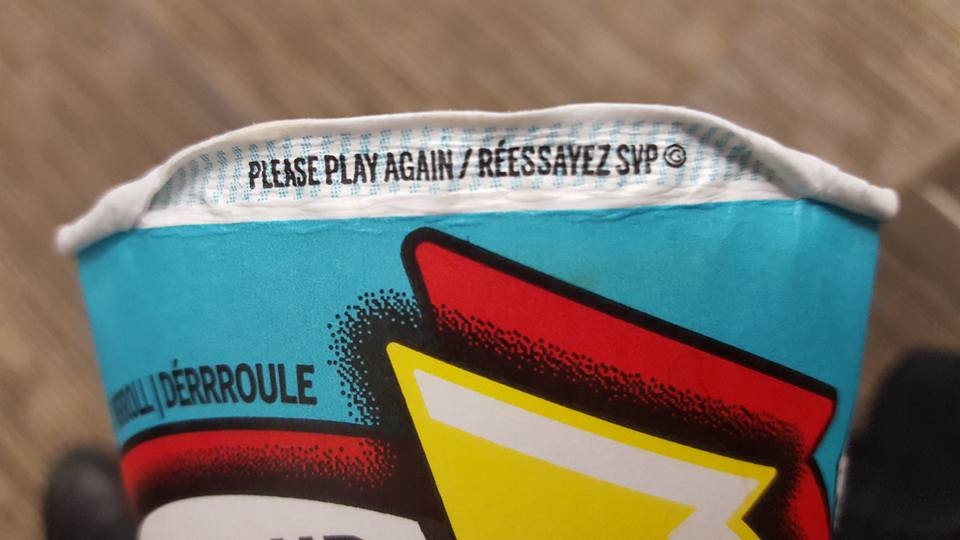 TORONTO – Local man Greg Finks is still confident that today will be the day he rolls up the rim and sees the $24,673 he owes his bank, despite years of failed attempts and the fact that Tim Hortons does not offer a $24,673 prize.
"Today is gonna be my lucky day," exclaimed Finks, whom friends and family report is about to lose his car. "Yes sir, once I roll up this cup it'll be sandy beaches and sunshine days!"
"Aww shucks. Well, it's only 6 a.m!" he added upon seeing the all-too familiar Please Play Again words.
Sources close to Finks have reported that this spiraling behaviour began in 2011, only months after Finks had recovered from a nearly life-ruining bout of gambling.
"Greg had gotten his life back together and nearly paid off all of his debt," said close friend Marcus Vasquez. "We were swinging by Tim's to grab some donuts to celebrate, and he joked about how it would be funny if paid off the last 500 dollars by winning Roll Up the Rim. We laughed then, but he's the only one still laughing."
Vasquez went on to recount how that 500 dollar debt quickly snowballed, and how he had lost his friend once again to delusion and astonishingly sub-par lattes.
"It's not even gambling, it's just coffee," said Finks, whose trembling hand could barely hold his eighth coffee of the day. "Trust me, my caffeine-induced insomnia has given me a lot of time to think about this."
Loved ones have been left wondering, in spite of odds becoming more bleak every year, how Finks would even plan to tackle his debt after winning, with prizes getting worse and worse over time.
"I guess I could still sell the lease on the Civic if I won that," said Finks. "But who are we kidding here, I know I'm going to win the money."
"You may call a diet of only free donuts disgusting, but I call it patience."