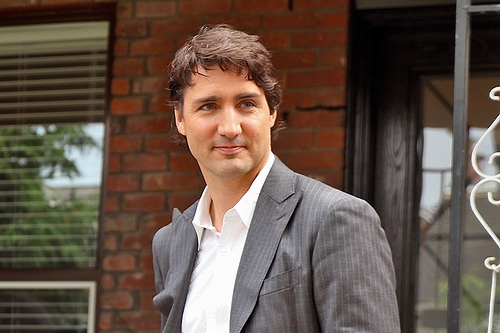 OTTAWA – Calling on his training as a former french and math teacher, Prime Minister Trudeau has started cracking down on cellphone use across the country.
"Look, I don't want to be the bad guy, but we're not here to play Candy Crush," said Trudeau, wearing a tight-lipped smile at yesterday's press conference. "So put your phones away and turn them off."
"If I hear it, it's mine."
Although Trudeau's rolled-up sleeves and tendency to show episodes of Bill Nye the Science Guy during Question Period have earned him a reputation as a 'cool' Prime Minister, sources inside the country say that cellphones are 'his one thing he's really strict about.'
"Whose was that?" said Trudeau, during an awkward silence after a phone rang at the press conference. "Nobody, huh? Well we're going to here until whoever owns that phone fesses up."
After about thirty seconds, a sheepish CBC journalist walked to the front of the conference, handed Trudeau his phone, and went to stand in the corner.
"The next time that happens, I'm using the phone to call that person's parents," Trudeau said.
Since adopting the 'no phones' policy, Trudeau has been forced to purchase several extra desks for his office, in order to accommodate the over 118,000 phones personally confiscated by him.
"This is bullshit," said Henry Chiltern, 58, halfway through his thirty minutes in Scarborough's Toronto East Detention Centre. "He only gave me two warnings this time."
But experts say Chiltern is lucky, compared to the dozens of Canadians who Trudeau has caught with their headphones in.
"Honestly, I never thought Trudeau would be the one to bring back capital punishment," said Supreme Court Justice Beverley McLachlan.
At press time, Trudeau promised the nation they could all watch a movie together if they made it to the end of the semester without any more phones going off.