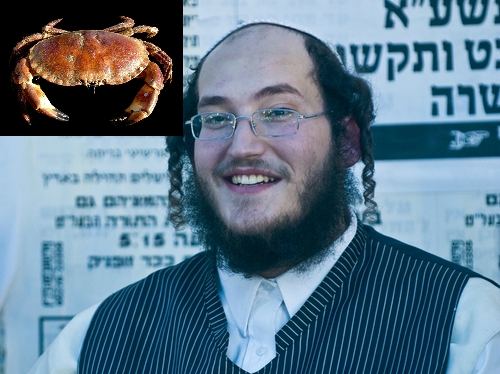 NEW YORK — A video showing a group of ultra orthodox Jews touching crabs, lobsters, shrimp and oysters for the first time is going viral worldwide.
The website that produced the five minute segment, reallystupidvideo.com, says it has already received over 50 million hits and global praise.
The video shows shy, pious men  presented with a live aquatic arthropods in a salt-water filled tank. The men sheepishly examine a lobster from a distance before gathering the courage to gently touch its red shell.
"Wow, it's really hard," said one of the men.
Several of the men giggled uncontrollably when they began to touch the shrimp.
"It's so small," said another surprised follower of the Talmudic text.
Despite the video's success, a newer video titled 'people who have never killed before try murder' is now more popular.