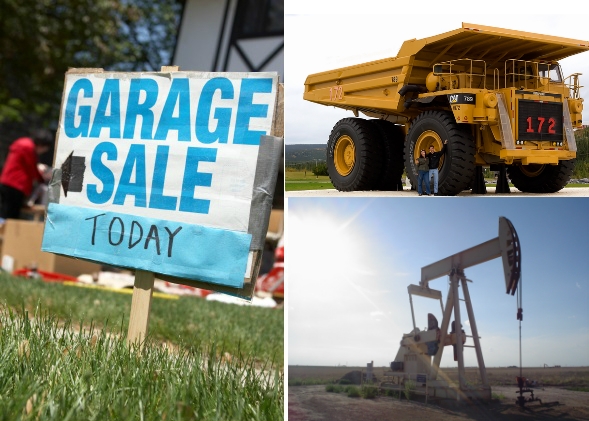 EDMONTON — Bargain hunters were out in full force at a surprise garage sale for most of Alberta's unused oil and gas production equipment last weekend.
Politicians and industry executives neatly arranged haul trucks, excavators, work helmets and empty oil barrels on their lawns, while curious locals perused through the items. Cardboard and plastic advertisements were placed on telephone poles across neighbourhoods in Edmonton, Calgary and Fort McMurray to announce the great deals.
"Your kids would love this oil well as a…see-saw," said Alberta Premier Rachel Notley attempting to sell boring equipment to a young family. "It's only five years old, permanently fixed to the ground and you don't have to worry about someone taking it away since we can't afford the environmental cleanup costs."
"$20 or best offer."
In an effort to draw more of a crowd, Syncrude executives opened a lemonade stand offering for a nickel a glass.
While many locals seemed interested in purchasing the previously owned and operated equipment, it was a tough sell for many since no one owns thousands of acres of tar sands to excavate and refine.
"We could really use that industrial-grade bulldozer for the backyard," said Harold Jarvis while admiring the size of a 2012 D475A-5 Dozer.
"But we already have one and you never use it!" snapped Jarvis' wife Gina. "Put that back where you found it."
She then whispered to her husband that he didn't need any of this "crap."
By the end of the weekend, Alberta had garnered $427.35 from the province-wide sales, which is about the same amount the province has invested in clean energy for the past 20 years.