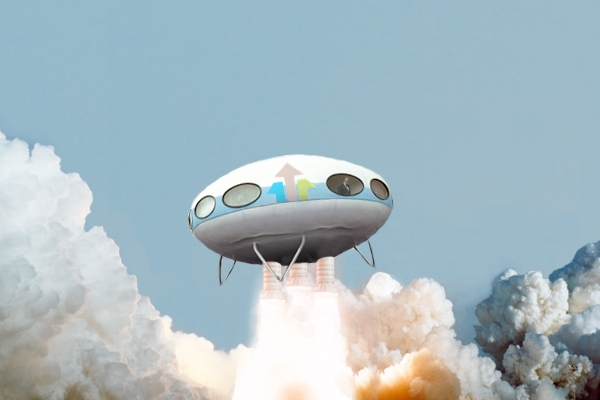 CALGARY – Following Stephen Harper's emotional concession speech Monday night, hundreds of Conservative Party supporters claimed to have seen a massive blue object launching from Harper's home base of Calgary Heritage.
Many witnesses believe that the object was the personal spaceship of the former Prime Minister and that he had boarded the craft to return to his home planet following his loss to Justin Trudeau. Still other witnesses claimed they could make out the familiar "Canada's Economic Action Plan" logo emblazoned along the hull of the ship as it disappeared into the night sky.
Corroborating this unlikely story, former PMO chief of staff, Nigel Wright, described a teary phone call from Harper in the moments before the launch."Through the tears all I could hear him say was that he was 'going home.'" said Wright, speaking to the Associated Press.
A letter found pinned to the doors of 24 Sussex appears to be a farewell letter from the Prime Minister. The letter reads as follows:
To all Canadians and the people of Earth,
In the Earth year 1993, I came to your country from my native planet of KwdhQWweuio. I had originally chosen to land in your western, oil-rich province of Alberta to refuel my ship with sweet, sweet tar sands. There, however, I saw opportunity. Despite my inability to take on human facial expressions, I quickly grew a dedicated following.
To Canada, I wished to bring the values of my home planet: divisiveness, fear of the other, reduced public services, rejection of science and low, low taxes. Over the last ten years, I accomplished many of my goals. In Earth year 2005, your country was known for its celebration of diversity, for peace keeping, for environmental stewardship, and for Bryan Adams. No more. (Save for Bryan Adams; we have an agreement.)
Alas, the one aspect of your Canada that I was unable to destroy, the one that would be my downfall, was your democracy. Yesterday you took my power from me.
Enjoy your new supreme leader, DILF-bot Justin Trudeau, humans.
Signed,
Glorpdoo "Stephen" Harper"
At press time, NASA scientists reported that Harper had safely landed on his home planet and that he has already secured a new job as a columnist for the KwdhQWweuio Post.