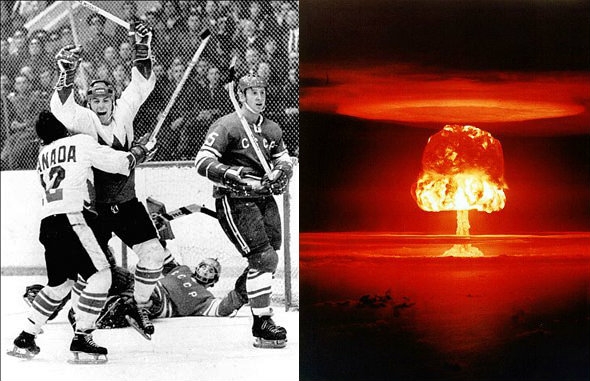 MOSCOW — Team Canada's Paul Henderson's game winning goal against the Soviet Union in the Summit Series has unleashed a nuclear apocalypse against the West.
Immediately after Henderson recovered his own rebound and slid the puck past goaltender Vladislav Tretiak, General Secretary Leonid Brezhnev ordered a full scale invasion of the West beginning with tactical nuclear strikes and breaching Checkpoint Charlie with heavy tanks.
"We cannot tolerate these on-ice threats and forward aggression from any Western nation," Brezhnev declared in the Central Committee after watching his team lose 6-5 and consequently the Summit Series. "They did not heed to our warnings from our players to submit to the might of the USSR. Plus, the referees totally ignored that slash by Esposito."
Announcer Foster Hewitt could still be heard giving a play-by-play of the scene that unfolded after the iconic goal:
"It appears the referee is informing Canadian captain Jean Ratelle that the entire team will be deported to Siberia and Ratelle is disputing the call. The Canadian fans are not happy about that decision."
Back home, many Canadians didn't let nuclear war get in the way of their victory parties. Thousands of fans celebrated in places like Maple Leaf Gardens and the Montreal Forum, which are now smouldering ruins.