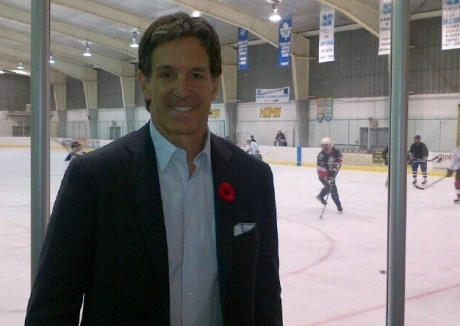 Toronto – Fresh off of a wave of firings including interim head coach Peter Horachek , GM Dave Nonis, and the entire front office, Toronto Maple Leafs President Brendan Shanahan entered a berserker rage and fired himself.
"He was firing everyone and then he entered a trance." said former video coach Chris Dennis. "When he ran out of people to fire, his eyes started glowing red, and he was breathing like a rabid wolf. That's when the screaming started."
Eyewitnesses say that the former Red Wing great did not mince words when he let himself go – referring to his executive skills as being "not fit for junior hockey" and his personnel decisions being "as useful as Phil Kessel on the penalty kill."
"I thought I got it bad but man – he really let himself have it." Dennis added. "He went too far when he said no one could ever love someone as absurdly dense as he was."
During his short and memorable tenure with the Leafs, Shanahan allowed star players to be alienated, provoked fans to throw jerseys on the ice, and led a miserable team to their most miserable season in years. Still, Maple Leafs Sports Entertainment (MLSE) leadership couldn't be happier with him.
"This is exactly the type of bold leadership that we were expecting when we hired Brendan last year." said MLSE chairman Larry Tanenbaum. "We say things like 'character' and 'accountability' but here is a guy that walks the walk. He's going to be hard to replace."
At press time Connor McDavid was praying to whatever God would listen that the Leafs don't win the draft lottery.