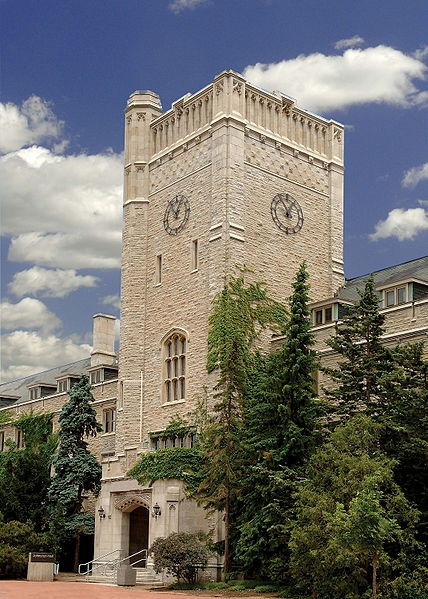 Name: University of Guelph
Nickname: Ol' MacDonald had a University.
Motto: "We take field trips literally"
History:
Well shoot, if it ain't a whole pack of university-bound rascals lookin' for some history of the authentickal type about the Ol' UofG. Well, pull up a chair and listen hard. Don't worry, there's enough hooch for everyone.
UofG started some ways back in the 1800s, the Ontario Government, them crazy bastards, purchased 500 acres of primo farmland but instead of farmin' it they handed it over to a buncha youthful nitwits and called it the Ontario School of Agriculture. Then UofG was founded back in, lessee, 1964? Yep, musta been, because 1963 was the year Franklin Thompkins' pig got loose and 1965 was the year what which when a flock of geese stole Franklin Thompkins' ol' jalopy. Yep: 1964, 'twas.
Originally offerin' high quality degrees in Farming, Whittlin', Rockin' Chair Maintenance, and Farmin', UofG eventually expanded into them less useful educational areas like Engineering and Book Science.
Founded in Nineteen Hundred and Aught-Seventy One, the Guelph University Arboretum is home to the Frances Ball Rose Garden, the Leslie Hancock Memorial Rhododendron Collection, and the William H. Penis Tulip Smorgåsbord.
Pros:
– The only university in Ontario that will just let you cut up dead animals and inspect their bodies for 4 years, you sicko.
– Thinking about the dances they made you do at the Pep Rally will only make you cringe for the rest of your natural life.
– Students are permitted to paint the cannon on Winegard Walk as a way to advertise parties, birthdays, and ransom demands.
– Agriculture students don't have to read Animal Farm but they will have to survive it.
Cons:
– Agriculture students need to get married before they return to the family farm, and they're not about to let your free will or resistance to cattle tranquilizers stand in their way.
– Constant, shifting power struggle between students, townies, and the pretty aggressive geese that live in the Wild Goose Woods.
– Guelph has some of the lowest crime and unemployment rates in Canada, and is consistently voted one of the nation's nicest places to live, but this is only because of the endless stream of human sacrifices that keep it in the Harvest God's favour.
– Unfortunately, 'exam season' isn't when the agriculture students go and harvest exams.
– Student newspaper is called 'The Ontarion', which ISN'T EVEN HOW YOU SPELL THAT YOU FUCKI-
Did you know…
…that if you paint your wedding proposal on the Cannon, the answer will probably be yes, because of the implied threat?
…that Guelph students are the most likely in Canada to be milked?
…The Gryphon mascot symbolizes the average Guelph student's pointed beak and fuzzy buttocks?
…that when you first arrive at Guelph, the best thing to do is find the biggest goose you can and then punch it right in the face? You might get your ass kicked, but at least you'll show that you're a crazy motherfucker who has to be taken seriously.
Famous Alumni:
Roberta Bondar, made NASA's head of Space Medicine after successfully diagnosing Mars with prostate cancer.
John Kenneth Galbraith, is there a way to make an economist sound interesting?
Jane Urquhart, National Treasure and National Treasure 2: Book of Secrets.